San Francisco Startup Ouster Launches New LiDAR System To Accelerate Autonomous Vehicle Timeline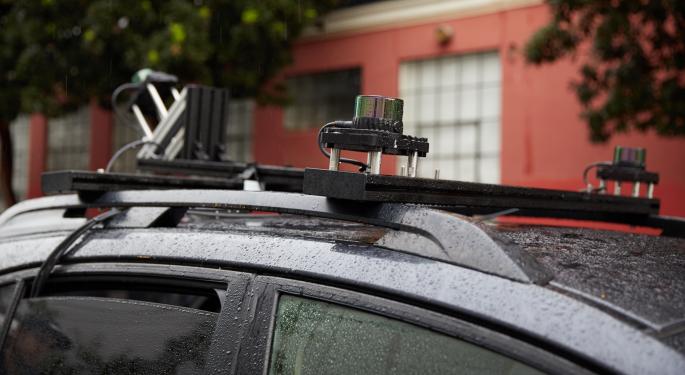 Tesla Inc (NASDAQ: TSLA) is making progress on autonomous vehicles with its camera-only approach, but other manufacturers sold on LiDAR have been stunted by the sensor's high expense and limited manufacturability.
"The self-driving car industry has been held back for the last two years by the lack of availability of advanced sensors," Angus Pacala, CEO of Ouster, told Benzinga. "Everyone is clamoring to get their hands on Velodyne sensors, and there's a nine-month to year back order, and there has been for over a year now. It's actually prevented more progress being made in this field, and it's prevented there being a practical route to getting better safety features into consumer cars."
So Ouster emerged after two years of low-key development with its flagship LiDAR technology, OS1, intended to lower cost, improve accessibility and ultimately accelerate the AV timeline. The company also announced $27 million in Series A funding, led by Cox Enterprises.
Where It Fits
Ouster claims its 64-channel sensor is smaller and five times cheaper than Velodyne's top model while matching resolution and meeting or exceeding performance.
Pacala anticipates 2018 production of tens of thousands of OS1 units based on current design and manufacturability.
Who It Affects
Pacala estimates that the majority of self-driving cars, maybe 95 percent, use LiDAR as the primary vehicle sensor.
"There's a lot of public debate over whether it should be radar or cameras or LiDAR, but in the forward-looking applications, we're talking about fully autonomous cars, every single group is using LiDAR, and it's because basically it outperforms the other sensors in a variety of ways that make building the car easier and more reliable," Pacala said.
Ouster has already begun shipping to clients, and Pacala confirmed the sensors will soon appear on "a number of different research vehicles from OEMs."
While he couldn't disclose buyers, he said he hopes to eventually supply for the likes of Ford Motor Company (NYSE: F)'s Focus or General Motors Company (NYSE: GM)'s Chevrolet Cruze.
What It Can Become
Ouster intends to expand access to LiDAR by cutting costs through increased manufacturability and more efficient technology, including custom microchips.
"To paint broad strokes, a lot of our technology is based around building custom semiconductors, so custom silicon chips or computer chips, that take the hundreds of components that might be in a traditional LiDAR sensor and combine them all into a single chip," Pacala said. "That makes it much easier to build, it makes it much cheaper to build, while maintaining the performance."
He anticipates a "steady march of improvements" for the OS1 through recent Series A funding, which will also expand the company from 40 employees to 100 by mid-2018.
"LiDAR is still a very new emerging technology, and it took many years to figure out how to build cameras at the scale that makes them a $5 device in everyone's smartphone," Pacala said. "It took three decades to get to the point where that was possible, and LiDAR is still in the early days, going into their second decade of perfecting the design of the device, where it could be manufactured at massive scale for low cost."
Related Links:
6 Months In Business, Autonomous Vehicles On The Road: Meet Ann Arbor's May Mobility
Nvidia's AI Developments Don't Change Self-Driving Car Timeline
Photo courtesy of Ouster.
View Comments and Join the Discussion!
Posted-In: Angus Pacala autonomous vehicleNews Top Stories Startups Exclusives Tech Interview Best of Benzinga