10 Paramount Films That Wouldn't Exist Without Major Financing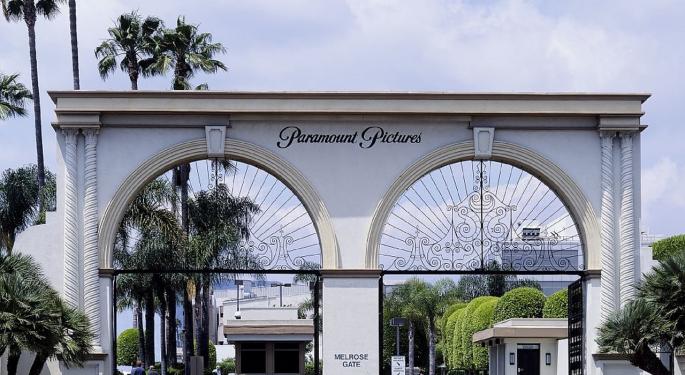 From the studio that brought you "The Godfather," "Titanic" and "Forrest Gump" comes an all-new title: "Paramount's Paramount Blow."
Viacom, Inc. (NASDAQ: VIA) (NASDAQ: VIAB) subsidiary Paramount Pictures announced Tuesday the end of its financing agreement with China's Huahua Media, which would have funded 25 percent of the production company's 2017, 2018 and 2019 film roster.
The deal's termination is expected to set Viacom back $59 million in the fourth quarter.
The Good News
Paramount will staunch the budgetary bleeding with new financing from Hasbro, Inc. (NASDAQ: HAS), Skydance Media, SEGA and others. Secured agreements will support 25 percent of production costs for 2018 and 2019 releases, weighted more toward big-budget films.
Those projects include Tom Cruise franchise sequels "Top Gun: Maverick" and "Mission: Impossible 6," two "Transformers" films, multiple J.J. Abrams projects and Oscar-winning director Ang Lee's "Gemini Man."
Financial Significance
The flicks are potentially huge money makers.
Three entries in the "Transformers" franchise rank in Paramount's top 10 grossing films of all time, with a fourth coming in at No. 11 and the least successful still surpassing $130 million to rank No. 57 out of 630. Altogether, the pack earned $1.45 billion at the box office.
Meanwhile, the five "Mission Impossible" films averaged nearly $187 million each at the turnstiles, and 1986's "Top Gun" (ranked No. 34) secured $177 million.
For perspective, here are the 10 highest grossing Paramount productions of the last decade:
"Transformers: Revenge of the Fallen" (2009): $402.1 million
"Transformers: Dark of the Moon" (2011): $352.4 million
"Iron Man" (2008): $318.4 million
"Indiana Jones and the Kingdom of the Crystal Skull" (2008): $317.1 million
"Iron Man 2" (2010): $312.4 million
"Star Trek" (2009): $257.7 million
"Transformers: Age of Extinction" (2014): $245.4 million
"Shrek Forever After" (2010): $238.7 million
"Star Trek Into Darkness" (2013): $228.8 million
"How To Train Your Dragon" (2010): $217.6 million
An Alleged Positive
Although the funding changes and immediate repercussions for Viacom are ostensibly negative, Paramount executives said there are long-term positives to the studio's reworked funding model.
"The actions we are announcing today establish a financing model that is better aligned to Paramount's new strategic approach to film production," Paramount CEO Jim Gianopulos said in a press release. "Our focus on a more balanced slate — a mix of big, broad-audience films and more targeted and co-branded films made with greater fiscal discipline — demands a more flexible and tailored financing model going forward. This structure positions us to capture more upside beyond 2019 as the new slate takes full effect."
Related Links:
Facebook, Cannes And The Future Of Entertainment
Movie Studios Blame Rotten Tomatoes For Box Office Woes
Posted-In: Hollywood Huahua Media Paramount ViacomNews Education General Best of Benzinga
View Comments and Join the Discussion!