The Companies That Manipulated The Tax System, According To The Paradise Papers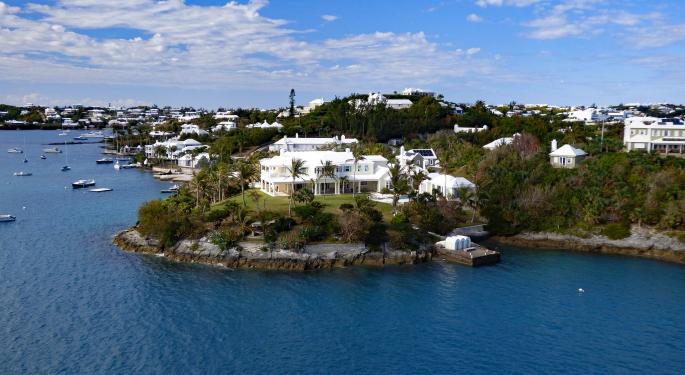 Apple Inc. (NASDAQ: AAPL), Uber and Nike Inc (NYSE: NKE) were among nearly 100 multinational corporations exposed Monday to have developed shell companies and offshore accounts in alleged tax avoidance schemes.
The Paradise Papers, 13.4 million files obtained by German newspaper Süddeutsche Zeitung and divulged by the International Consortium of Investigative Journalists, revealed rampant reliance on global tax havens by businesses worldwide, all affiliated with Bermudan law firm Appleby or the Singaporean company Asiaciti Trust.
Who Did What?
Nike shifted billions of dollars in profits from Europe to the tax haven of Bermuda through the establishment of Nike International Ltd., a subsidiary owning Nike's Swoosh icon and charging royalties to the firm's European headquarters, according to the ICIJ.
The structure allowed the legitimate transfer of funds from 2006 until 2014, at which time intellectual properties were shifted to Dutch limited partnerships enabling continued tax evasion, the news organization said. From 2006 until last year, Nike enjoyed a drop in global effective tax rate from 34.9 percent to 13.2 percent.
Uber similarly reduced the tax liability for its ride-hailing app; Allergan plc Ordinary Shares (NYSE: AGN) did so with its Botox patent; and Facebook Inc (NASDAQ: FB) used similar methods with its platform technology, according to the ICIJ reports.
Tesla Inc (NASDAQ: TSLA) and NetApp Inc. (NASDAQ: NTAP) also operated Dutch limited partnerships.
Apple set up shadow companies on the English Channel island of Jersey to hoard $252 billion of non-U.S. earnings at foreign tax rates between 2 and 5 percent, far below a U.S. charge of 35 percent and Irish rate of 12.5 percent.
The Russian subsidiary of Exxon Mobil Corporation (NYSE: XOM), whose former directors include Rex Tillerson, similarly shifted profits to the Bahamas, the ICIJ said.
Related Links:
Fund Manager: When It Comes To Tax Reform, Investors Need To Be 'Thinking About The Changes Under The Hood'
A Look Into The House GOP Tax Bill: Brackets, Deductions, Corporate Rates, And More
Here's What Happened Last Time The U.S. Implemented Major Corporate Tax Reform
View Comments and Join the Discussion!
Posted-In: Allergan Apple Exxon MobilNews Legal Global Markets Media Best of Benzinga