Is The CEO Behind LaCroix The Most Gonzo Writer On Wall Street?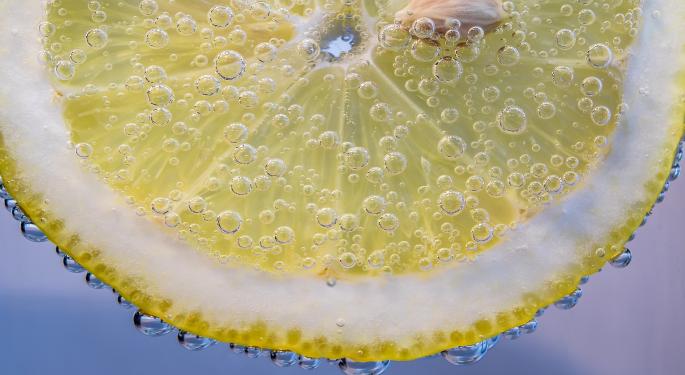 Sixteen.
That's the number of exclamation points used by National Beverage Corp. (NASDAQ: FIZZ) chairman and CEO Nick A. Caporella in a Thursday pushback against recent volatility in shares of the company, which owns brands such as LaCroix and Detroit's own Faygo.
"FIZZ revenues have grown 60% over the last ten years — ALL ORGANIC GROWTH — NO ACQUISITIONS! Organic growth has now ACCELERATED!" Caporella said in a press release with syntax and punctuation last seen in an AOL chat room.
Shares of the Plantation, Florida-based beverage company have fallen approximately 25 percent in the last month, from a high of $129.82 on Sept. 11 to a low of $95.03 on Thursday.
Still, it's been a mostly positive year for FIZZ on Wall Street. The stock began the year trading at $45.
"What's creating the volatility relative to the stock market with FIZZ? Today less than 15% of the daily volume traded on major exchanges is financially driven by company fundamentals. Over 50% of all daily exchange volume is driven by traders gambling on fleeting price moves and stocks paired with derivatives," Caporella said.
An Annual Report With Wildlife
Caporella's statements employ literary devices rarely seen in the world of public companies. His company's 2017 annual report opens with a scene seemingly lifted from a Thomas Kinkade painting.
"Happy, squawking seagulls overfly this lovely lagoon, high-fiving wingtips over such a beautiful New England cove … (winking in) another glorious crisp morning!" Caporella said in his introduction to the fiscal 2017 report.
"Aromas are scenting, seaweed is smiling and ducks are hooting … what's all the fuss about? FIZZ — that's what!!"
The CEO is 81 and worth an estimated $3.7 billion, according to Forbes. The magazine detailed in an April 2016 story how Caporella, the son of a Pennsylvania coal miner, formed National Beverage to dodge a hostile takeover of his prior company, the telecom firm Burnup & Sims.
The sparkling water brand LaCroix was brought into the National Beverage fold in 1996, and the carb-, sugar- and caffeine-free drink's rising popularity has driven up the company's value in recent years and made Caporella a billionaire.
FIZZ reported first-quarter results for fiscal 2018 after the close on Sept. 7, with an EPS of $0.82 against a $0.74 estimate and sales of $260 million versus a $248.9 million estimate.
FIZZ: Not Your Typical Beverage Company
FIZZ's annual revenues exceed $900 million and are approaching $1 billion, Caporella said Thursday: "No TYPICAL beverage company is delivering the fundamental financial performance of FIZZ!"
Analyst headlines stating that FIZZ is "weak" induce a "stampede" of short sellers "aboard the passive BOT trading wagon," Caporella said.
Passive investment "does not question logic if prices are equitable, BUT merely accepts the stampede-induced results!" Caporella said. "There is no governor or regulatory convenience that accesses the reasonableness of the market behavior. Where is the SEC watchdog?"
FIZZ fundamentals "reflect STRONG SUSTAINED PERFORMANCE!" Caporella said. "Are high-frequency trading, BOT stampeded results, inflated short positions and … current world anxiety — stimulating strange and unprecedented circumstances?"
The CEO closed his statement like so: "If you have the opinion that I, Nick A. Caporella, am angrily exercised while extremely fortunate to be guiding FIZZ, your opinion is quite accurate!"
Related Links:
National Beverage: A Great Story, But It's Run Too Far
National Beverage Corp Shareholders Partying For 15th Day In A Row
Posted-In: Faygo LaCroix National Beverage Corp.News Management Best of Benzinga
View Comments and Join the Discussion!