Rodney And Holly Robinson Peete Talk About Hemp Cream For Pain Relief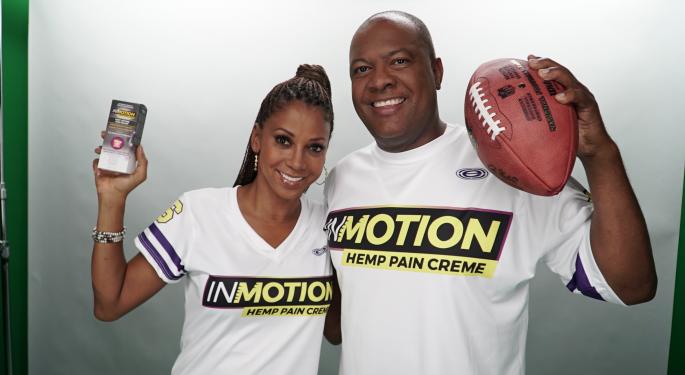 Dr. Randy Nordyke is the chairman and co-founder of InSpirit LLC. Inspirit produces two non-psychoactive — THC-free, 100 percent legal, over-the-counter pain relief crèmes made from organic hemp oil: Inspirit Hemp Crème and Inmotion Hemp Pain Crème.
Over his life, Nordyke underwent 17 surgeries, most of them related to a knee problem he suffered from. Of course, with these surgical procedures came a lot of pain.
As a doctor, Nordyke knew the effects oral painkillers would have on his liver and kidneys. So he set out on a mission to develop something that "really worked, without any side effects." After a few years of research, he arrived at InSpirit's formulation: "a non-psychoactive, THC-free, hemp based pain crème with zero side effects, which you can use as much as you want," he said during a recent conversation.
Interestingly, Nordyke had a friend at iHeartMedia Inc (OTC: IHRT) who introduced two radio hosts at the company, former NFL player Rodney Peete and actress Holly Robinson Peete, to InSpirit's crème. At the time, Peete was getting ready to get a knee replacement as well.
"Just before I was going in for a knee replacement, I was given a tube of Inmotion Hemp Pain Crème," the former USC All-American told Benzinga. "I absolutely love this stuff, and it definitely helped my recovery."
Related Link: Montel Williams' Battle With Multiple Sclerosis And The Miracle Of Medical Marijuana
Seeing how much it helped him deal with pain, Rodney and his wife, Holly Robinson Peete – who you may know from "The Talk" and "21 Jump Street" - reached out to Nordyke and his partner Rod Ensminger, and told them they wanted to be a part of the company.
"Holly and I came to know the founders and then became both spokespeople and partners in the company," Peete said. "We could not be more excited about the product, and about where this company will go in the future!"
Robinson Peete seemed to share the enthusiasm of the former Detroit Lions quarterback. "When I saw how well Inmotion helped Rodney with his knee, I tried it on my shoulder, and it worked immediately," she said.
"It's fun for us to be a part of a company that can make products that actually work, do not have side effects, and as a company, is just getting started," she said.
The Details
Nordyke and the company's Sr. Vice President of Sales & Marketing, Rod Ensminger, walked Benzinga through the company and its products.
"CBD from hemp, which is not psychoactive, has great pain relieving qualities," Nordyke said. However, they knew they wanted to stay away from products you can find only in dispensaries, "more like mom-and-pops product." So they came up with a product that looked like other mainstream creams, followed FDA guidelines (don't confuse this with it being FDA approved, because the FDA does not evaluate over-the-counter drugs) and that could be sold anywhere, even on Amazon.com, Inc. (NASDAQ: AMZN).
In addition, Ensminger pointed out, InSpirit's crèmes are based on a liposomal formula. This means that absorption is a lot faster and action isn't localized because "there's basically a bubble that encapsulates all the essential oils and CBD in the crème and takes it to the bloodstream."
Unlike other topicals that act only superficially, the CBD in InSpirit crèmes affects CB1 and CB2 receptors in the brain to ease pain, Nordyke said.
Related Link: Why Growing Marijuana In Israel Is A Good Idea: Cronos Group CEO Explains New Joint Venture
With just $230,000 of initial capital, Nordyke and Ensminger developed their Inmotion and Inspirit crèmes, which are the same thing, but sell under different brands — one for dispensaries, and another one for the general public. In addition, they managed to build up about $100,000 in inventory.
InSpirit is also developing a hemp-based, liposomal, oral capsule that gets directly absorbed into the small intestine. The company expects in to hit the market over the next couple of years.
"That new capsule that they are developing, which is a natural hemp anti-anxiety product, both Rodney and I tried it," Holly Robinson Peete said. "All I can say is WOW ... it worked so well! I cannot wait for that capsule to come out!"
View Comments and Join the Discussion!
Posted-In: cannabis news CBD Cream CBD CremeCannabis Health Care Exclusives Interview General Best of Benzinga