Exclusive: Wynn Exec Talks Macau Recovery, Gaming Loss, Boston/Japan Expansion Plans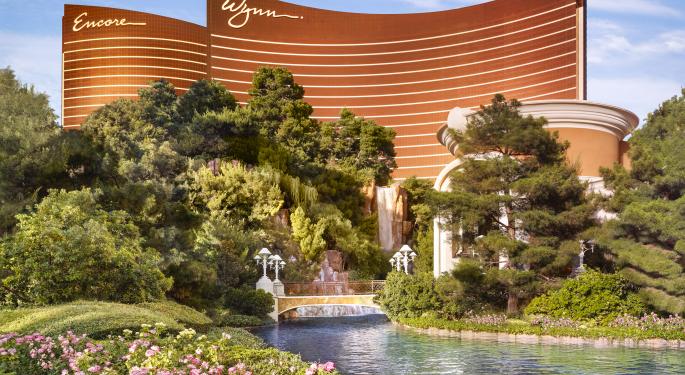 As Macau recovers, so do casino stocks.
Wynn Resorts, Limited (NASDAQ: WYNN), which has a particularly high exposure to Macau, China, is the world's biggest gaming destination. The company derived 69 percent of its EBITDA from Macau, according to its second-quarter earnings report released last week.
Macau Stabilizing
It appears that Macau has staged a dramatic comeback, and major casino stocks are reflecting this. An anti-corruption crackdown by the Chinese government posed an initial threat to the region, but it appears the concerns have subsided.
"With respect to Macau, there were a couple things that led to the degradation in that market in recent years, the anti corruption campaign, part of the Chinese government prohibition and oversight to the market, there were also macro economic pressures in China, which led to degradation of liquidity both at the player and junket levels," Wynn's vice president of corporate finance Robert Amerine told Benzinga.
"I think that many of the rules and oversight issues the anti corruption campaign produced led to a more stable and sustainable environment, macro economically we have seen an improvement there at both levels."
Amerine eased some concerns regarding a recent report from Bloomberg regarding Macau's junket liquidity issues. Amerine said the company is cautiously optimistic regarding Macau's recovery and long-term stability.
"We talk with the junket operators and there seems to be a stable liquidity situation in terms of collections from players and being able to recycle that capital and use it in the market to fund their players' activities. Right now it feels like a stable liquidity environment for them, which is of course important for our business in the VIP segment."
The House Doesn't Always Win
In a statistically anomaly that Steve Wynn himself said was unlike anything he had seen in 50 years, a junket operator brought in players that ultimately took Wynn's newest Macau property, Palace, for a Baccarat loss of $10 million, generally one of the most profitable games for the casino operator.
"The bottom fell out and all of the players won millions of dollars," said the 75-year-old casino mogul.
"The loss we sustained in that particularly tough month at Palace was well outside of expectations of probability, it was an exceedingly rare event, but it certainly does happen," said Amerine.
Japan, Boston Expansion
While downtown Las Vegas continues to outpace the Vegas Strip, Wynn's most exciting growth prospects come from outside of Nevada.
Japan, one of the most appealing gaming markets in the world, voted last year to legalize casino gaming. While the details are still being ironed out, Wynn is certainly interested in pursuing a Japanese casino license.
"The market has great potential. We are very interested in the developments over there. Timing is a function of how regulatory events unfold; obviously, there was strong political will earlier in the year to move forward. There is a political situation that right now we need to wait and see what type of momentum and progress exists for bringing the regulatory framework to completion. We are hopeful that is soon. We believe we have the ability to bring forward an integrated resort that has all the amenities and qualities that we think would be right for the Japanese," said Amerine.
In what will undoubtedly be one of the most exciting gaming destinations on the East Coast, Wynn resorts is preparing to open $2.4 billion Wynn Boston Harbor project in 2019.
The property will be located in Downtown Boston and will be one of the first gaming resort properties in a major metropolitan area outside of Nevada in quite some time.
"We like the dynamics in that market. There is quite a bit of gaming revenue in the regional area and a lot of international flights direct into to Boston. Between the two opportunities in Japan and Boston, we are excited about Wynn's future development opportunities."
Related Links:
Vegas Strip Gaming Win Outpaces State Of Nevada In June
View Comments and Join the Discussion!
Posted-In: baccaratNews Travel Global Top Stories Exclusives Interview General Best of Benzinga