Travis Kalanick Is 'Steve Jobs-ing It' And Seeking A Return To Power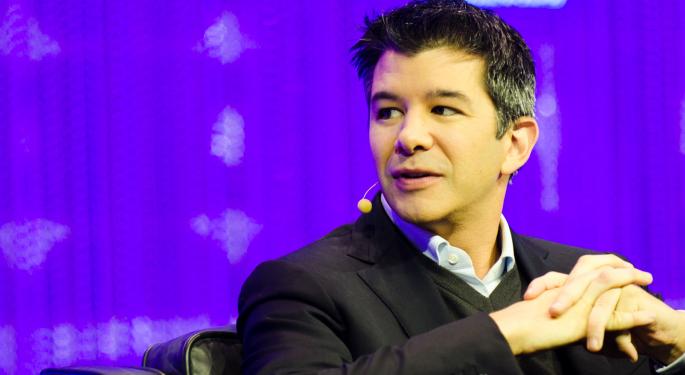 Travis Kalanick was ousted from Uber Technologies Inc., the ride-hailing company he co-founded in 2009. Sounds familiar? It should as the late Steve Jobs co-founded Apple Inc. (NASDAQ: AAPL) in 1976 only to resign in 1985.
But Jobs came back to lead Apple in 1997 as an "interim" CEO — a title that wasn't removed until 2000. And now Kalanick is looking to do same and is reportedly telling people that he is looking to "Steve Jobs-ing it," according to Recode.
Needless to say, Kalanick looking to "Steve Jobs-ing it" is hurting the company's prospects to fill the vacant CEO spot, Recode added. In fact, without Kalanick's mere presence including a seat at the board and large ownership stake is likely preventing the company from moving forward.
"If there was no hair on this dog, this would be a no brainer for anyone to take this job," a person close to the search of Uber's next leader told Recode. "But this is the hairiest company anyone has ever seen."
Meanwhile, the list of executives who may still be interested in assuming the top executive rank at Uber are all men. This could be seen as a negative given widespread accusations of sexual assault at the company and the assumption that only a powerful woman can clean up the culture.
"While gender of a leader should not matter to dispatching such appalling behaviors, the symbolism over the appointment of a female CEO at Silicon Valley's most toxic-bro startup is unquestionable," Recode emphasized.
Related Links: Can Uber Make A Profit? You Want That For Hurl Or To Go? Uber Drivers More Concerned With Puking Passengers Than Boardroom Shenanigans
________
Image Credit: By Heisenberg Media - Flickr: Travis Kalanick LeWeb Day 1 - Dan Taylor/Heisenberg Media, CC BY 2.0, via Wikimedia Commons
Posted-In: ReCode Steve JobsNews Travel Management Tech Media General Best of Benzinga
View Comments and Join the Discussion!