Google Chrome World's Top Browser; It's Also The Most Vulnerable To Hackers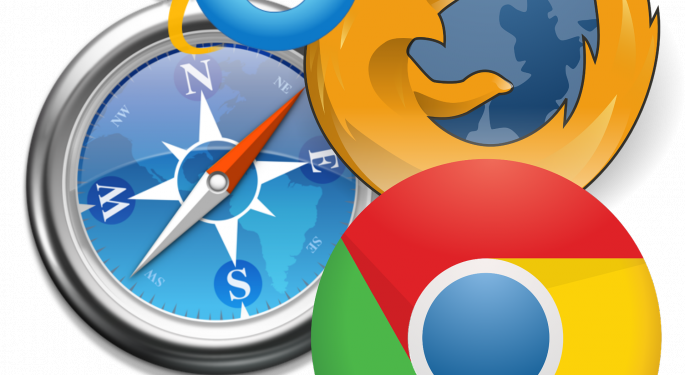 Google Chrome is not only the world's most popular browser; it's also the most vulnerable to attack, a pair of studies show.
Using information compiled by CVE Detail, the analytics firm Statista said the Alphabet Inc (NASDAQ: GOOGL) browser led its competitors with the most errors in 2016, "providing hackers with an opportunity to gain access to a system or network."
Statista also noted that Google has an army of techs continuously releasing bug fixes. Among other browsers, Apple Inc.'s (NASDAQ: AAPL) Safari Browser had the fewest software errors.
Ranking The Rest
Here's how the those browsers compared in 2016 by vulnerabilities, which are defined as errors that can exploited for cyberattacks:
Google Chrome: 172.
Microsoft Corporation (NASDAQ: MSFT) Edge: 135.
Mozilla Firefox: 133.
Microsoft's Internet Explorer: 129.
Safari: 56.
Popularity Contest
Using data amassed by StatCounter, Chrome is the number one browser - and leading gateway to the internet - worldwide. It overtook Firefox in 2011 and Explorer a year later.
Here's how Statista ranks them by market share as of June:
Dekstop
Google Chrome: 63.2 percent
Firefox: 14 percent.
Explorer: 9.3 percent.
Mobile/Tablet
Chrome: 47.3 percent.
Safari: 21.2 percent.
Explorer: 14.6 percent.
Overall
Chrome: 53.9 percent.
Safari: 14.4 percent.
Explorer: 8.6 percent.
Posted-In: Firefox Google Google Chrome Internet Explorer Mozilla SafariGlobal Tech Best of Benzinga
View Comments and Join the Discussion!