Elon Musk's 100-Day Bet To Build The World's Biggest Battery Starts Now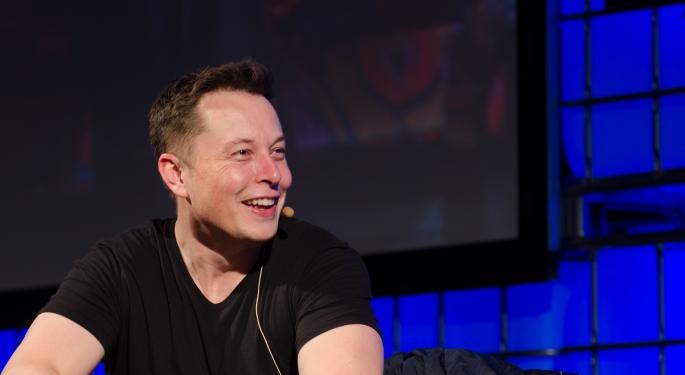 Three months. That's how long Elon Musk and Tesla Inc (NASDAQ: TSLA) have to build the world's largest lithium ion battery.
The project stems from a bet Musk made back in March with Mike Cannon-Brookes, co-CEO of Atlassian Corporation PLC (NASDAQ: TEAM). Musk had claimed Tesla could solve the energy problems of South Australia in that time, and after replying "Holy s#%t," Cannon-Brookes threw down the gauntlet.
Tesla will get the system installed and working 100 days from contract signature or it is free. That serious enough for you?

— Elon Musk (@elonmusk) March 10, 2017
If Tesla cannot complete the project within the next hundred days, Musk said it will be free to South Australia's tax payers.
For his part, it took Cannon-Brookes only a week to get all the relevant political players on board.
"We actually insisted in the contract that we be held to the hundred days or it's free. That's what we said publicly, that's what we are going to do," Musk told reporters at a press conference.
Why South Australia?
Located in an extremely wild and rural region of Australia, the state of South Australia has been victim to severe storms that damaged its energy infrastructure.
The damage has caused severe blackouts, affecting as many as 30,000 homes, which the Tesla battery will be required to supply with power.
Tesla will build the battery in conjunction with the French renewable energy company Neoen, which already operates wind farm in Jamestown, South Australia.
Unlike Tesla's Gigafactories, the project will not be a plant that produces batteries for use by homeowners or businesses. Tesla is building is literally a single, high-tech battery that can store power during periods of excess and then release it back to the grid at a lower price when supply is low.
The battery will also be part of a broader push in Australia to become more reliant on renewable sources of energy.
Related Links:
Gadfly Columnist: Tesla Investors Need To Lower Expectations Before Loving The Stock
Munster Compares Tesla's Model 3 To Apple's iPhone: 'It Could Change The World'
Image: Heisenberg Media, Flickr
Posted-In: Elon Musk Mike Cannon-Brookes NeoenNews Events Global Tech Best of Benzinga
View Comments and Join the Discussion!