AMD's RX Vega Vs. Nvidia's GTX1080: The Great Rivalry Heats Up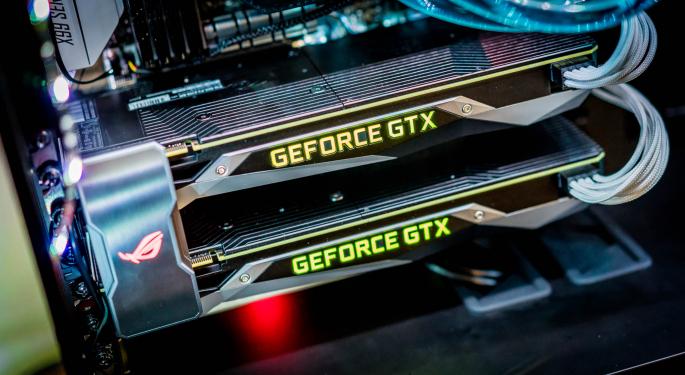 The competition in the graphic processing unit market is heating up, with players in the segment striving to one up each other with high-performance chips.
For NVIDIA Corporation (NASDAQ: NVDA), GPU is a major business, with the company deriving about 53 percent of its revenues from the gaming segment. Advanced Micro Devices, Inc. (NASDAQ: AMD), which took a plunge into the GPU market with its 2005 buy of ATI Technologies for $5.4 billion, has recently been upping the ante in its quest to make a name for itself in the high-end GPU arena.
Of late, the emergence and flourishing of cryptocurrencies such as bitcoin and Ethereum, have also boosted the demand for graphics cards from miners of these currencies.
Intel Corporation (NASDAQ: INTC) has been the leader in the desktop GPU space, with a 71.1 percent share in the first quarter compared to AMD's 13.1 percent and Nvidia's 15.8 percent.
GPU: A Primer
Technically, a GPU is a single chip processor, with integrated transform, lighting, triangle set up/clipping and rendering engines capable of processing a minimum of 19 million polygons per second. It is designed to rapidly manipulate and alter memory to accelerate the creation of images in a frame buffer in order to generate and feed output to a display device.
The difference between a GPU and a central processing unit is that the way they process tasks. A CPU consists of a few cores, optimized for sequential serial processing. On the other hand, a GPU has a massively parallel architecture, consisting of thousands of smaller, more efficient cores, designed to handle multiple tasks simultaneously.
Incidentally, Nvidia was instrumental in popularizing this term, as it sold its GeForce 256 as the world's first GPU in 1999.
Demand for GPUs has been on the rise due to the evolution in graphic games and as technologies such as augmented reality, virtual reality and artificial intelligence gain momentum.
The GPU market is expected to leapfrog to $157.1 billion by 2022, representing a compounded annual growth rate of 35.6 percent between 2016 and 2022, according to estimates by Allied Market Research.
The Big AMD–Nvidia Rivalry
AMD, which had a strong share in the high-end GPU market in 2014, was challenged by Nvidia, which subsequently forced the former out of the high-end market. However, AMD has marked its re-entry into the high-end market, with the release of its Vega GPU. The quest to move up in the value chain is understandable, given that high-end products carry high margins.
The Polaris GPU AMD launched in 2016 helped it to wrest some share from Nvidia, as it competed effectively against Nvidia's Maxwell GPUs, though at a low cost.
However, Nvidia released its GeForce GTX 1080 Ti in March and GTX 1080 Titan XP GPUs in April, giving it an edge.
Around the time, AMD released its next-gen line of graphics card Radeon Rx Vega.
A graphics card is a hardware module in the PC that consists of one or more GPUs, their memory chips and other components required for its functioning. Since the chip and the card come as a single unit, usually people use these terms interchangeably.
Radeon RX Vega Vs. GTX1080
AMD, however, delayed the launch of its newest Vega GPU to the third quarter. Though a late entrant, expectations are good. The company is gearing up to launch its Radeon RX Vega cards at SIGGRAPH 2017, which is scheduled between July 30 and August 3.
We can't wait to announce our new Vega products, including RX at this year's #SIGGRAPH - make sure to follow us for more details. pic.twitter.com/LENxuPfj7n

— Radeon RX (@Radeon) July 1, 2017
Referring to a leak, PC GamesN said the Vega RX performed 15 percent quicker than GTX 1080, but still trails the performance of GTX 1080 Ti.
The test performed with the old 3DMark 11 benchmark showed that the RX Vega scores 31,873 compared to 27,618 for the GTX 1080 and 38,389 for GTX 1080 Ti. The test result has come as a welcome relief, as the Radeon RX Vega Frontier Edition released in June, on testing, was found to perform at a level between the GTX 1070 and GTX 1080 levels.
All eyes are now trained on the much-awaited product release from AMD to see whether it lives up to the hype surrounding it.
Related News:
Chips And Cryptocurrencies: A Match Made In Tech Heaven?
Intel Has Reportedly Ditched Nvidia For Advanced Micro Devices
__________
Image Credit: By ZSkiraly (Own work) [CC BY-SA 4.0 (http://creativecommons.org/licenses/by-sa/4.0)], via Wikimedia Commons
View Comments and Join the Discussion!
Posted-In: ATI TechnologiesNews Forex Top Stories Markets Tech Trading Ideas General Best of Benzinga