Amazon Names The 20 Best Books Of 2017; Did Your Favorite Make The List?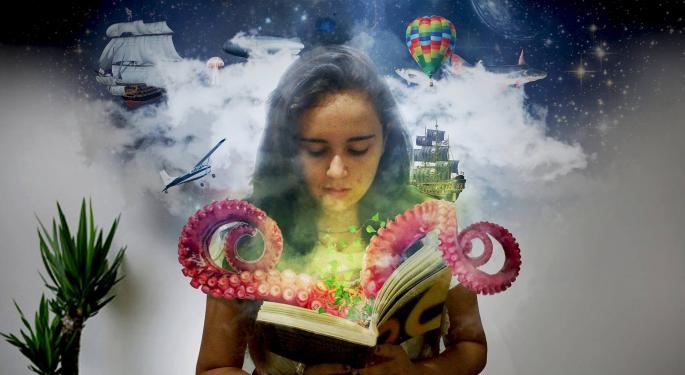 Attention book worms, Amazon.com, Inc. (NASDAQ: AMZN) released its selections for "Best Books of the Year So Far."
At its core, Amazon is still a book seller, even though it also sells cloud services, a artificial assistance personal assistant device and, soon enough, groceries.
"We love looking back on the past six months to give our customers a list of our favorite must-reads heading into summer," said Sarah Harrison Smith, editorial director of print and Kindle Books. "Our top pick this year, 'The Ministry of Utmost Happiness' is a sweeping yet intimate story, one that packs heartbreak, humor, love and acceptance — and a memorable cast of characters — into a novel that will stick with readers for a very long time."
Top 20
Here is the top 20 picks from the list.
"The Ministry of Utmost Happiness: A Novel" — Arundhati Roy waited 20 years since releasing "The God of Small Things."
"Killers of the Flower Moon: The Osage Murders and the Birth of the FBI" — The book follows the true story of big oil and murder on the Osage Indian Reservation in the 1920s.
"Beartown: A Novel" — Fredrik Backman's tale of a small town that is torn apart by a crime no one wants to believe happened.
"Exit West: A Novel" —The futuristic novel by Mohsin Hamid follows lovers who flee a war-torn Middle Eastern country and seek refuge in the West.
"Priestdaddy: A Memoir" — A "poetically precise language and darkly hilarious" tale of Patricia Lockwood moving back home with her Catholic priest father and Satan worshiping mother.
"You Don't Have to Say You Love Me: A Memoir" — Sherman Alexie's memoir highlights the oppression and violence suffered by the larger American Indian community.
"Lincoln in the Bardo: A Novel" — George Saunders' comedic book takes place in a ghost-filled cemetery where President Lincoln's son is laid to rest.
"The Impossible Fortress: A Novel" — Jason Rekulak's coming-of-age-story is so compelling that "once you've finished it, you'll want all your friends to read it immediately."
"Hunger: A Memoir of (My) Bod" — Roxane Gay's memoir of how she purposely gained weight to block out memories of being a sexual assault victim.
"Homo Deus: A Brief History of Tomorrow" — Yuval Noah Harari's prior book "Sapiens" explored the past 70,000 years of human history, but his new book now looks toward the future.
Laini Taylor's "Strange the Dreamer."
Sheryl Sandberg and Adam Grant's "Option B: Facing Adversity, Building Resilience, And Finding Joy."
Rachel Kadish's "The Weight Of Ink."
Douglas Preston's "The Lost City of the Monkey God: A True Story."
Paul Auster's "4 3 2 1: A Novel."
Laurie Frankel's "This Is How It Always Is: A Novel."
Katherine Arden's "The Bear and the Nightingale: A Novel."
Malin Persson Giolito's "Quicksand."
Benjamin Ludwig's "Ginny Moon: A Novel."
Daniel Magariel's "One of the Boys: A Novel."
Related Links:
Analyst Puts Dollar Tree's Family Dollar Stores On Amazon Radar
View Comments and Join the Discussion!
Posted-In: Amazon AWS booksNews Education Psychology Media General Best of Benzinga