Kevin O'Leary Talks The 'Buffett Curse' And Why Apple Would Be Foolish To Buy Netflix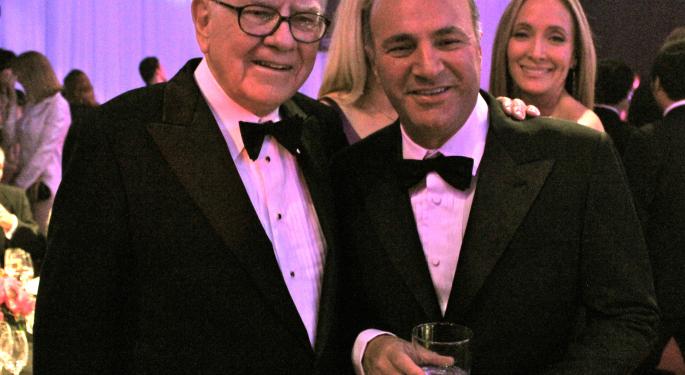 Friday is proving to be one of the more interesting non-earnings trading sessions. Warren Buffett confirmed he sold around one-third of his entire International Business Machines Corp. (NYSE: IBM) stake while at the same time the Apple Inc. (NASDAQ: AAPL)–Netflix, Inc. (NASDAQ: NFLX) merger rumor received support from a top Wall Street analyst.
Notable investor, "Shark Tank" personality, and former candidate to lead Canada's Conservative Party, Kevin O'Leary, was a guest on CNBC's "Halftime Report" to offer his take on these two headline-grabbing stories.
'Buffett Curse'
According to O'Leary, IBM was a victim of the "Warren Buffett curse" in which the notable investor buys a large stake in the company only for it to underperform. In IBM's case, its reputation will now be "tainted forever" and could drop to the $130 level.
O'Leary did note that the "Buffett curse" is very rare and hard to find. But the fact it happened to IBM is reason enough to taint its image for O'Leary.
"It will be where you put money to go and die," he said. "So I think it is over until they do a massive change including management, board change, you name it. That's the Buffett curse."
Apple Shouldn't Buy Netflix
Simply put, it would be "sheer insanity" for Apple to go out and buy Netflix. O'Leary believes such a transaction would be incredibly dilutive, but more important, doing so would send one-third of its installed base of shareholders fleeing the stock.
O'Leary noted that the Apple–Netflix tie-up is a classic example of nearly every pitch he sees on "Shark Tank."
"You show me your valuation, and I ask you this," O'Leary explained. "Given that amount of money, can I go emulate exactly what they did? There is absolutely nothing proprietary about Netflix."
Related Links:
Are You Selling IBM Just Because Buffett Trimmed His Position?
Morgan Stanley Sees 30% Upside For Stocks; 'Mr. Wonderful' Disagrees
_______
Image Credit: Courtesy of, and used with expressed permission from the office of Kevin O'Leary
View Comments and Join the Discussion!
Posted-In: Apple CNBCM&A Rumors Management Insider Trades Media Trading Ideas Best of Benzinga