Army To Soldiers: Shoot Down Off-The-Shelf Drones With Small Arms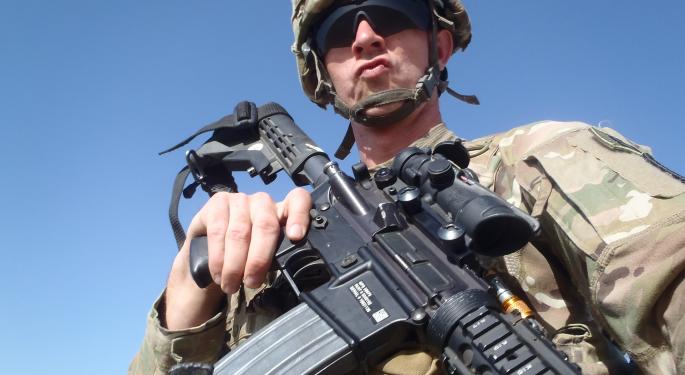 The U.S. Army has issued guidelines to ground troops dealing with an increasingly deadly new menace: "low, slow, small" drones that gather intelligence and may be weaponizable.
The Counter-Unmanned Aircraft System Techniques drills down to the company level, even advising soldiers who spot a cheap drone hovering about to shoot at it and run for cover.
"In order to counter this low-level air threat US forces must ensure that our lowest level sensor, the Soldier, is appropriately trained and equipped," the manual says. "This begins at the Company level."
The Army manual, released last week, outlines ways soldiers should position themselves on the battlefield, using binoculars or night vision scopes, to observe air threats.
Run And Shoot
"If [a small drone] is observed over your position, it is likely your position is already compromised," the document says. "Units must attempt to engage and destroy the [drone] using any organic means available, typically small arms fires organic to the unit while simultaneously relocating the unit."
One of the big growth sectors in the drone defense business is developing anti-drone defense systems to deal with the deluge of small drones that can be used for guerrilla warfare. The radical Islamic State in Iraq and Syria have perfected the use of drones for surveillance and is seeking to weaponize them.
Boeing Co (NYSE: BA) and Northrop Grumman Corporation (NYSE: NOC) are developing systems for truck-mounted laser guns for the U.S. Army, defense analysts say. The nonprofit Battelle Memorial Institute makes the "DroneDefender," which shoots radio frequencies to confuse enemy drone's GPS system
No Easy Answer To Drone Defense
The manual says the prevalence of drones costing $650 or less has led to a paradigm shift that has forced the Army and military to think differently about how it operates in the field.
The drones are typically too small for traditional air-defense units to catch. It advises unit commanders to assume a small drone is an enemy reconnaissance asset or worse.
"Small units operating in and around combat areas should assume they are being observed by the enemy and not assume they are under the umbrella (protection) of air and missile defense units," the manual reads. "If a unit is deployed tactically in the field and encounters UAS threats of any category it must be assumed that the intentions of the UAS are hostile, regardless of its actions."
Related Links:
Global Defense Firms Will Build $82 Billion in Drones
Defense Contractors Have Strong Q1 Amid Trump's Pro-Defense Rhetoric
View Comments and Join the Discussion!
Posted-In: Battelle Memeorial Institute Counter-Unmanned Aircraft System Techniques CUASTNews Politics Global Tech General Best of Benzinga