Killing Bill: O'Reilly Done At Fox News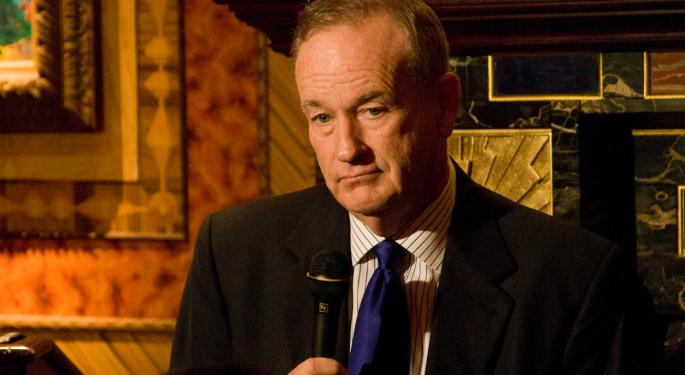 A slew of sources are saying that Bill O'Reilly, under fire for accusations of sexual harassment and verbal abuse, will vacate his job at Fox News, perhaps as early as this week.
One of many unnamed sources popping up in reports told CNNMoney that Twenty-First Century Fox Inc (NASDAQ: FOXA) will hold a board meeting on Thursday and that the main topic will be the fate of the bombastic news commentator.
O'Reilly is on vacation and was slated to return next week. But sources told New York Magazine that Fox head Rupert Murdoch, reluctant to can O'Reilly, is being pressured by his sons, Lachlan and James, to terminate the face of the Fox News channel.
A source close to the situation told Benzinga that O'Reilly will be gone.
Update: Around 2:30 p.m. ET, Fox News confirmed O'Reilly will not be returning to the network.
Advertisers Hitting Where It Hurts
Advertisers have been bolting the show and women's groups have been demonstrating at Fox News headquarters in New York. The group, Ultraviolet, even booked a plane to fly around Manhattan with a banner saying: "FOX: #DROPOREILLY, THE SEXUAL PREDATOR."
The advocacy group says 70 advertisers have promised to yank their ads from "The O'Reilly Factor" including:
Mercedes-Benz U.S. International, Inc.
BMW of North America, LLC
Hyundai Motor Co
Allstate Corp (NYSE: ALL)
"Inclusivity and support for women are important Allstate values. We are concerned about the issues surrounding the program and we have suspended our advertising," Allstate said in a statement.
In a statement Tuesday evening, O'Reilly's attorney said, "Bill O'Reilly has been subjected to a brutal campaign of character assassination that is unprecedented in post-McCarthyist America. This law firm has uncovered evidence that the smear campaign is being orchestrated by far-left organizations bent on destroying O'Reilly for political and financial reasons. That evidence will be put forth shortly and it is irrefutable.
Roger Ailes, Revisited
The storm broke on Saturday, when the New York Times reported five women had received payments coming of roughly $13 million in exchange for agreeing not to pursue sue or speak about allegations of sexual harassment or inappropriate behavior by O'Reilly.
Fox News' "O'Reilly Factor" fetched $178.5 million in advertising in 2015, and $118.6 million for the first nine months of 2016, according to Kantar Media, Variety reported.
The O'Reilly scandal is reminiscent of the fall of former Fox News CEO and founder Roger Ailes, who resigned under enormous pressure in July 2016 or sexual harassment allegations.
The culture of the right-wing network has been plagued with allegations of misogyny and racism. Three women recently filed suit against Fox charging racial discrimination.
Image: Justin Hoch, Flickr
Posted-In: Bill O'Reilly O'Reilly Factor The O'Reilly FactorNews Rumors Top Stories Media Best of Benzinga
View Comments and Join the Discussion!