FDA Warns Of Dangerous Hidden Ingredient In 5 OTC Male Sexual Enhancement Supplements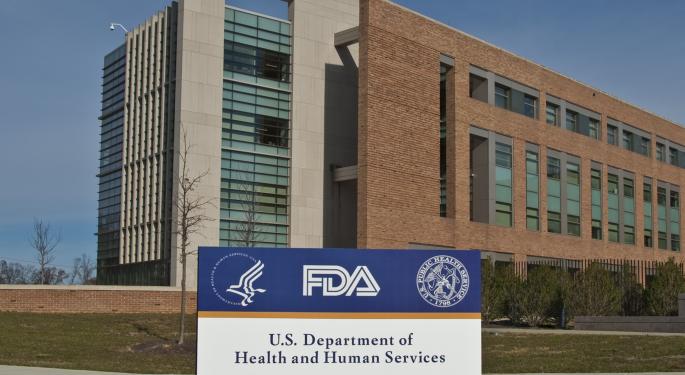 The U.S. Food and Drug Administration has issued a series of warnings about a handful of over-the-counter male sexual enhancement supplements. According to the FDA, laboratory analysis has identified that the following supplements contain a drug that could be life-threatening to certain users:
Rhino 8 Platinum 8000.
Rhino 7K 9000 Male Performance Booster.
Power Male Sexual Stimulant.
Black 3K Plus Male Sexual Enhancement Capsules.
African Viagra.
Sildenafil Presence Found
The FDA found that these drugs contain sildenafil, the active drug in Pfizer Inc. (NYSE: PFE)'s FDA-approved Viagra.
"The FDA has identified an emerging trend where over-the-counter products, frequently represented as dietary supplements, contain hidden active ingredients that could be harmful," the FDA explained. "Consumers may unknowingly take products laced with varying quantities of approved prescription ingredients, controlled substances, and untested and unstudied pharmaceutically active ingredients."
Sildenafil is often prescribed by doctors to men with erectile dysfunction, but the drug may also interact harmfully with nitrates found in other prescription drugs and can lower blood pressure to dangerous levels.
The U.S. supplement industry grosses nearly $32 billion per year. The FDA is constantly battling to protect consumers from potentially dangerous supplements.
Far From The First Concern Regarding Sexual Supplements
In 2015, the FDA uncovered at least 25 sexual supplements that contained sildenafil and other drugs. In the past 10 years, the FDA has discovered more than 500 sexual supplements containing illegal or undisclosed drugs.
A 2013 study by Pfizer revealed that 83 percent of over-the-counter male sexual supplements contained the active ingredient for either Viagra or Eli Lilly and Co (NYSE: LLY)'s Cialis.
For Pfizer investors, these illegal supplements are taking a meaningful bite out of Viagra sales, which came in at nearly $1.6 billion in 2016. Viagra is expected to face generic market competition starting in late 2017.
Related Links:
If Trump Plans To Pivot From Healthcare To Tax Reform, He May Want To Tell Congress...
There Is Value To Be Had With The Right Healthcare ETFs
__________
Image Credit: By The U.S. Food and Drug Administration - FDA Sign & Bldg 21 at Entrance, Public Domain, via Wikimedia Commons
View Comments and Join the Discussion!
Posted-In: Cialis ViagraNews Health Care FDA Legal General Best of Benzinga