7-Eleven's $3.3 Billion Expansion In The U.S.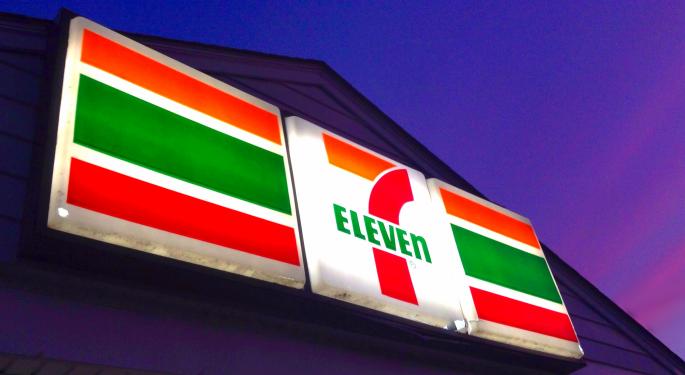 7-Eleven, the iconic convenience store chain best known for its Slurpees, believes it has lots of room to grow in the U.S even after launching an expansion in September of 2016.
7-Eleven's parent company, Japan-based Seven & i Holdings Co., agreed to pay $3.3 billion to acquire over 1,000 gas stations and convenience stores in Texas and several eastern U.S. states. from Sunoco LP (NYSE: SUN), which is 44 percent owned by Energy Transfer Partners LP (NYSE: ETP), according to a Bloomberg report.
Seven & i's expansion of its footprint across the U.S. comes at a time when the Japanese company is paring back some of its domestic businesses, including selling some unprofitable department stores. The company has also signed a 15-year gas contract with Sunoco.
Seven & i expects the deal to boost its operating profit by 6 percent. The deal also provides some relief to Sunoco, which reported a $406 million net loss last year — its worst performance since 2007, according to Bloomberg.
The company also believes it can add to its U.S. footprint at a "cheap" price relative to some of its prior acquisitions. But not all experts agree with the company's thinking.
"The cost of the Sunoco acquisition is even higher than those of other acquisitions in recent years and will inevitably impose a financial burden on the Group," Bloomberg quoted Ratings & Investment Information Inc. as saying in a note.
Shares of Tokyo-listed Seven & i ended Thursday's session lower by nearly 2 percent at 4,444 yen. The stock is now lower by nearly 4 percent over the past year compared to a 15 percent gain in the Nikkei index as a whole.
See Also:
A Calendar Of All The National Food Days You Can Take Advantage Of
Mac 'n' Cheese + Cheetos = Burger King's Latest Feast
Image: Mike Mozart, Flickr
View Comments and Join the Discussion!