Exclusive: FireEye CEO Reflects On Company's Transition, What Keeps Him Up At Night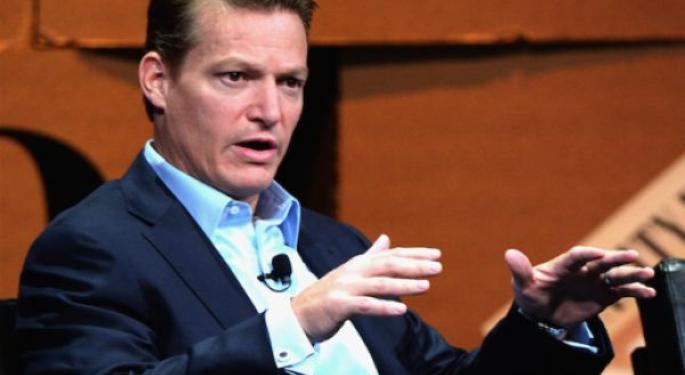 When FireEye Inc (NASDAQ: FEYE) CEO Kevin Mandia assumed his role in June 2016, he had two immediate projects: restructure cost and advance the portfolio.
"We went public as a company that had a single appliance," Mandia told Benzinga. "It had a sandbox technology. We detected what everybody missed. We always knew, and every company goes through this transition, you start niche, you're in startup mode, you have this neat little thing, nobody else can do it, and you have to broaden over time."
Balancing Efficacy And Efficiency
FireEye found its niche and exploited it to its fullest, and its singular product, though successful, consumed great costs.
"We massively spent, but massively got the real estate with that one product," he said.
The company is now at a point in its development where it needs to expand its offerings and take on the challenge of balancing growth and profitability. So far, it's had profitable quarters without growth, and productive quarters without profit.
During the fourth quarter of 2016, for example, the company failed to meet its goals, but it was the most financially efficient quarter the business had ever had, Mandia said. The company had only $1.5 million in losses compared to a previous 10-quarter streak operating at a $60-million to $80-million loss.
Exact "made tremendous strides on the bottom line," Mandia said, adding that he expects the company to be profitable as soon as the fourth quarter.
Addressing Growing Pains
"We have a great plan for operationalizing security," he said. "That is our 'what's next' plan. We didn't guide for the full year. We provided guide rails for it, but what we've got to do is develop and ramp up the pipeline for the new things that we're developing. These are things that have been in the works for five or six years, but we were known as a sandbox company."
The plans to innovate are in place, but the process to actualize will be slow to ensure that the brand and mission are properly communicated.
And communication is key. With the proliferation of cybersecurity companies, the firm cannot risk being silently effective or allowing its business model to be misunderstood.
"We're in the first innings of this transition of the company, so I know it's a lot of hard work ahead of us, but it's going to be a lot about how we communicate clearly so people understand where we are and where we're heading," Vitor De Souza, vice president of Global Communications, told Benzinga. "That's really the No. 1 priority."
Personnel Road Bumps
As of yet, management is functioning at less than full capacity, and this may pose a hindrance to the team and its forward motion. Former Chief Financial Officer Michael Berry left in February; the position was filled by Chief Accounting Officer Frank Verdecanna. However, the company is still without a chief operating officer. Nonetheless, Mandia said the hole has not majorly impacted the company.
"Our CFO does not write software," he said. "What I'm focused on is the execution and how well we innovate and how well we execute our sales promotion. If we do that right, we'll be just fine."
Even the process of restructuring can be achieved without a COO.
"A CFO is instrumental in doing that. You get the metrics there," he said. "But my heritage is a self-funded startup that had to be profitable. When you do that, the requirements for G&A come from the business that makes money. It comes from the revenue generation engine you have."
While Mandia is managing without a full executive team, having someone focused solely on cost restructuring would allow him to focus more on promoting and representing the company.
"You learn real quickly how to align your costs," Mandia said. "You have no choice. I don't think this is that hard, but you do have to have a Mr. Inside focused on that all the time while you have Mr. Outside going out and trying to promote the business, get people to understand the business and take the journey with us."
What Keeps Him Up At Night
For Mandia, the priority right now is follow-through.
"For me, as a public CEO and quite frankly as a private CEO, and just as a general manager, you always have to do what you say you're going to do," he said. "So, what would keep me up at night is we go to the Street and we say, 'Here's what we think we're going to do,' you've got to do it. That simple."
He said the company needs to get into a "predictable cadence" of meeting or exceeding its calls.
"The only way to judge me or to judge any leader or any manager is do they do what they say they are going to do, and we have to," he said.
But public relations is also a big issue, and that's what keeps De Souza up at night. His greatest struggle is accurately communicating the work that FireEye does as recent cyber attacks shine a light on the security industry.
"On my side, it's really navigating through the clutter with communications," De Souza said. "The market's gotten way more visible than I've ever expected with all these high-profile breaches. I know thousands of companies now are talking about it and really confusing the market."
Nick Donato contributed reporting.
Related Link:
FireEye Is Hot After Bank Of America Upgrade
Exclusive: FireEye CEO, CFO Talk Cybersecurity, Politics And Rumors
________ Image Credit: By HD061116 (Own work) [CC BY-SA 4.0 (http://creativecommons.org/licenses/by-sa/4.0)], via Wikimedia Commons
Posted-In: News Education Management Exclusives Movers Tech Interview General Best of Benzinga
View Comments and Join the Discussion!