Verizon's Network Has A New Top Competitor, And It's Not AT&T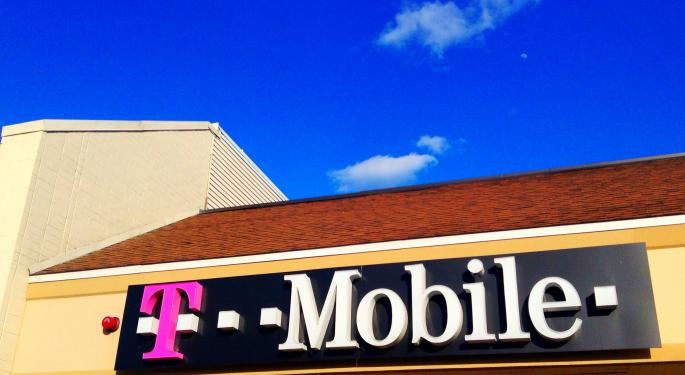 Verizon Communications Inc. (NYSE: VZ) may still lay claim to the best wireless network in the United States, but it's only by the thinnest of margins. And if you think it's AT&T Inc. (NYSE: T) that's breathing down Verizon's neck in terms of network coverage and speed, you're dead wrong. According to the latest data from OpenSignal, T-Mobile US Inc (NASDAQ: TMUS) has narrowed the gap with Verizon to the thinnest of margins.
OpenSignal doesn't rely on data provided by the companies themselves. Instead, it uses data generated by its own app, which is installed on more than 170,000 U.S. phones. The app repeatedly runs network tests and gathers data on speed, latency and availability.
In terms of data speed, Verizon's 4G network (16.8 Mbps) narrowly edged out T-Mobile (16.6 Mbps). AT&T (13.8 Mbps) and Sprint Corp (NYSE: S) (8.9 Mbps) came in a distant third and forth.
However, there's more to a good network than speed. Latency is a measure of the delay associated with data transfers. In this case, Verizon's lead over all its top three competitors is nearly negligible. Verizon squeaked out a victory with a 4G latency of 59.8 ms followed by Sprint (61.3 ms), T-Mobile (61.6 ms) and AT&T (65.5 ms).
Finally, Verizon gave up some major ground in the past year in one of the most important areas: coverage. OpenSignal found Verizon users are covered 88.1 percent of the time, up from 86.7 percent a year ago. However, T-Mobile's coverage took a huge leap from 81.2 percent to 86.6 percent, passing AT&T for second best and putting "the uncarrier" within a stone's throw of Verizon. AT&T's coverage actually declined modestly from a year ago to 82.2 percent, while Sprint's coverage jumped from 70.0 percent to 76.8 percent.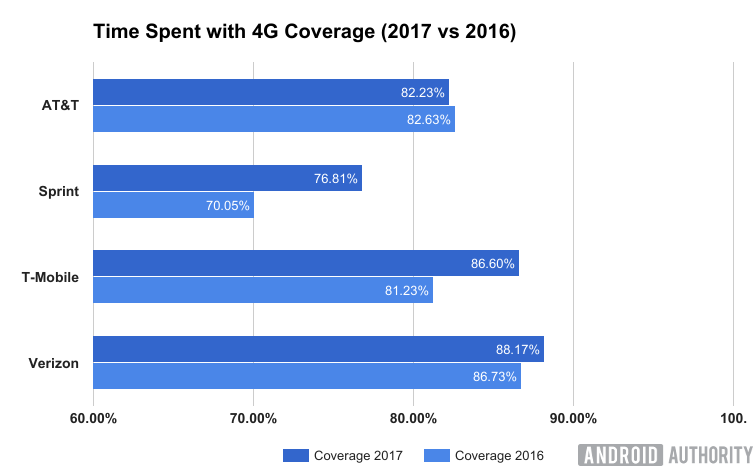 While OpenSignal declared Verizon and T-Mobile the big winners of the network tests, customers have one final variable to consider: cost. Verizon's network may be the best, but that quality comes at a price.
Verizon no longer offers unlimited data plans, but its "XXL" 24GB plan costs $110 per month. AT&T's unlimited data plan costs slightly less at $100.
By contrast, T-Mobile offers an unlimited data plan for only $70 if customers opt for a $5/mo autopay discount. Sprint has the best pricing of all, offering an unlimited data plan for only $60 per month.
While Verizon maintains a narrow lead in speed, latency and coverage, T-Mobile seems to be the best overall value when it comes to U.S. wireless service these days. If it keeps growing and improving its network in 2017, T-Mobile may soon eclipse Verizon as the gold standard of 4G networks.
Image credit: Mike Mozart, Flickr
View Comments and Join the Discussion!
Posted-In: 4G OpenSignal unlimited data wireless networksNews Tech Best of Benzinga