Departures In The Luxury Retail Space: More Problems Ahead?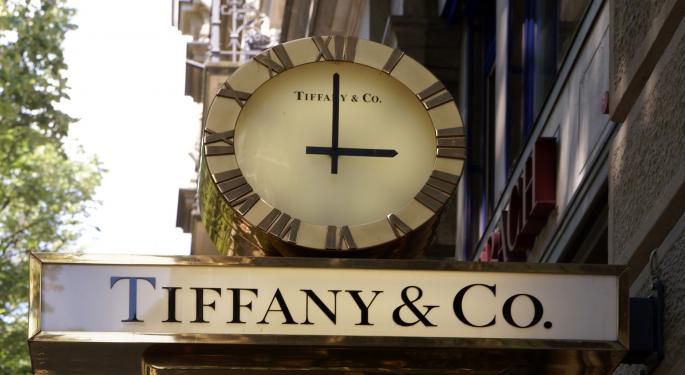 The aging market of luxury retail seems to be decomposing. Consistently high rates of management turnover have peeled back a facade of elegance and exposed a state of internal decay.
On Sunday, Tiffany & Co. (NYSE: TIF) dropped CEO Frederic Cumenal. On Saturday, Ralph Lauren Corp (NYSE: RL) CEO Stefan Larsson announced his May departure. A month before, the company gleaned CFO Jane Nielsen from Coach Inc (NYSE: COH). And in November, Neiman Marcus CFO Donald Grimes resigned after a tenure of 17 months.
Investors smelled trouble in luxury retail before the management shake-ups, but the intra-market turmoil has become more palpable with each turnover.
Trouble At Tiffany's
At Ralph Lauren, the problem was company-specific. Larsson allegedly stepped down due to creative and consumer-related differences with the founder. But some attribute Cumenal's departure to more social and economic circumstances.
According to Forbes, Tiffany's has been hurting for the last two years as the strengthened American dollar kept international tourists from big-city shopping. The company took a second punch as recent protests at Trump Tower prompted a 14-percent decline in sales at the Fifth Avenue location.
Tiffany's global sales declined 2 percent during the holiday shopping season, and U.S. sales fell 4 percent year-over-year.
Management isn't content to endure continued financial distress.
"The board is committed to our current core business strategies, but has been disappointed by recent financial results," Board Chairman Michael Kowalski said in a statement about Cumenal's departure. "The board believes that accelerating execution of those strategies is necessary to compete more effectively in today's global luxury market and improve performance."
What Experts Say
The current strategy at the core of the issue is a failure to connect with younger consumers, according to North 6th Agency CEO Matt Rizzetta.
"We're seeing the need for luxury brands to adapt to much more influential millennial consumers," Rizzetta said. "When it comes to executive turnover, I think we see higher turnover from companies more disconnected from the millennial audience than those that are connected."
Hence, the exodus of industry leaders to accommodate new strategies. However, many companies are coupling the management changes with additional marketing tactics.
"A lot of the luxury brands are shifting from product-centric marketing strategies to educational strategies," Rizzetta said. This includes securing media attention to position management as "thought leaders" contributing to discussions of industry trends. Some companies have pushed the agenda with "fireside chats."
Tiffany's, for example, aired its first ever Super Bowl commercial Sunday, with spokesperson Lady Gaga attempting to appeal to a younger demographic.
Customization and personalization are also critical tactics, Rizzetta said, citing Fendi's in-house digital platform geared toward younger consumers. Many brands are also focusing on connecting with millennials on the ground through younger employees rather than through C-Suite executives. This strategy safeguards against company-wide disturbances from management departures.
"They can weather executive turnover as it applies to the millennial consumers," Rizzetta said.
The Future Of Luxury Goods
Despite the sphere's tumultuous state, Rizzetta foresees a potential for company growth.
"I think the two words I would emphasize are experimentation and innovation," he said.
These focus points include targeting new consumers, developing personal technology platforms and embracing measurement tools to track impact — strategies previously unnecessary for the highly sought names.
Some companies might also consider possible buyouts. Rizzetta said customized marketing strategies will drive a lot of M&A activity in the coming years.
"I think what you're going to see is luxury brands looking around the room at each other, and you'll see a lot of recognition of innovation, and that is going to be a trigger of potential M&A activity more than it ever was before," he said. "It's going to, for the first time ever, be beyond P-and-L and based on innovation and experimentation."
Market Reacts
Some analysts and investors have expressed optimism about the future of luxury retail and Tiffany's, in particular. Inspired by the company's new advertising campaign, Jeffries maintained a Buy rating on the stock with a $102 price target.
"Obviously Lady Gaga is a very relevant personality, especially with today's youth generation. So Tiffany choosing her as the new face of a new product line shows us the company's wherewithal to keep the Tiffany brand timeless but also fresh," Jefferies analyst Randal Konik wrote.
Others were less enthused. Mizuho reacted to the management change by downgrading Tiffany's to a Neutral rating with a price target of $74 — a $16 drop from previous valuations.
Posted-In: luxury retailers Matt Rizzetta Mizuho Financial GroupNews Retail Sales Management Top Stories Interview Best of Benzinga
View Comments and Join the Discussion!