The Future Perfect: Gene Munster Knows The Biggest Threat To Apple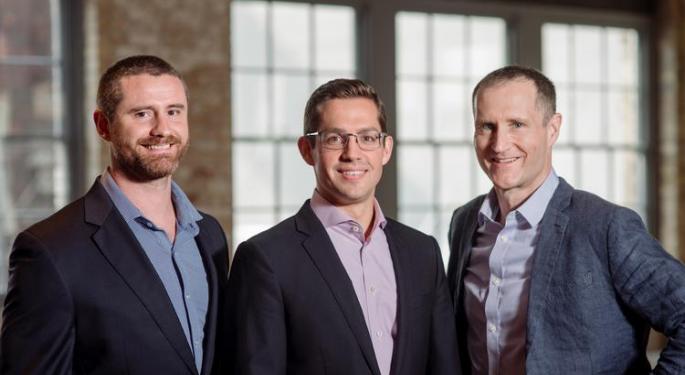 Since he issued his first research note on the company in 2004, Gene Munster has cemented himself as one of the most authoritative voices on Apple Inc (NASDAQ: AAPL).
From lauding the innovation of the iPod to correctly calling the company's comeback under Steve Jobs, Munster has been a constant presence on Apple earnings calls the last 13 years.
In December, the longtime Apple bull left Piper Jaffray after 874 Apple notes to launch his own venture capital firm, Loup Ventures. And though he's no longer covering Apple specifically, Munster still has his eye on the future of the company.
Ahead of Apple's Q1 earnings release, Benzinga caught up with Munster to find out about his new gig and what technologies he thinks will shape our future. The following is the first of a multi-part series from our conversation, presented in transcript form and edited slightly for length and clarity.
Benzinga: Let us just start with background on Loup Ventures. In your words, what is Loup Ventures?
Munster: It is a research-driven VC fund focused on The Future Perfect, which is a combination of virtual reality, augmented reality, artificial intelligence and robotics. We are investing in early stage seed companies.
Benzinga: What is The Future Perfect? What does that mean?
Munster: It is a world where there is less work to do and our entertainment is endless. In terms of the work side, we think that 70 percent of jobs will go away over time, and "over time" is the next 50 years.
On the entertainment side, the way we interact and are entertained is going to fundamentally change. The reason why we call it The Future Perfect is we believe it will allow people to get back to what they really want to do,which is to be creative and to be social.
The Future Perfect is reducing the work, and when it is work,it is work for fun.
Benzinga: You had been at Piper for 20 some-odd years as a sell-side analyst. Why did you make the move and why now?
Munster: We had front row seats to the internet when that took off, and separately as mobile took off. We felt like this next wave, those four themes are going to be as big, if not more impactful, than the internet was and mobile was. So the 'Why now?' is that I wanted to not only continue to do my best in predicting that, but also have a more active role to be able to work with companies and identify the companies that are within that.
I think the other piece to it is that these themes [AR, VR, AI and robotics] are going to be dominated by the five biggest tech companies. And I think there is going to be a lot of excitement around the smaller companies that eventually will get acquired by the bigger companies. In order to go after those companies, I had to make a shift away from working at an investment bank.
Tune into PreMarket Prep Wednesday at 8:35 a.m. ET to hear Munster's reaction to Apple's Q1 earnings report.
Benzinga: You had a lot of really interesting thoughts in your manifesto. Something you said in the augmented reality section, you said as we approach 2025 to, "Expect the smartphone user base to start to contract for the first time as high end users begin to replace smartphones with AR wearables." How do you see a company like Apple, or any company in the smartphone industry, having to negotiate that?
Munster: It is a huge problem for Apple. I think that it is kind of evidence that they understand that is a problem. They are talking about AR [as an] area where they want to invest more, and it is rare that they do that ahead of products are actually coming out.
Apple needs to, at some point, pass the baton. I think Apple is a company that probably has the most to lose and potentially the most to gain with this whole transformation. The most to lose is that, as a competitor to Apple, this is your opportunity over the next 10-15 years as the phone slowly goes away.
Right now [AR] is a small part of their business, about 13 percent of Apple's business, but that is the opportunity. I think that any investor can feel really good about owning Apple for the next two-plus years just because of what they have got [now]. The iPhone is in good shape as the iPhone 10 comes out, but this is going to be a transition period for Apple for the next 10 years as they move, as everybody moves, away from the smartphone.
Benzinga: So then while we are on the subject of Apple, do you think the impending AR/VR movement is the biggest threat to the company?
Munster: I think so. I think it is almost 70 percent of their earnings today. I think that pending change is a threat to their company. They need to address it and I think that they will. The other part is Apple is a smart company. Even though they have not blown people away in the last two years, I think that they still want to be top three tech companies in the world, and I think they are going to figure this out. So yes, it is going to create some anxiety for investors as they navigate that transition, but I think ultimately they are going to come out on top.
Gene Munster will be on PreMarket Prep Wednesday at 8:35 a.m. ET reacting to Apple's Q1 earnings report.
Photo credit: Loup Ventures
View Comments and Join the Discussion!
Posted-In: News Education Psychology Events Top Stories Exclusives Tech Trading Ideas Best of Benzinga