AppDynamics May Have Learned Something From New Relic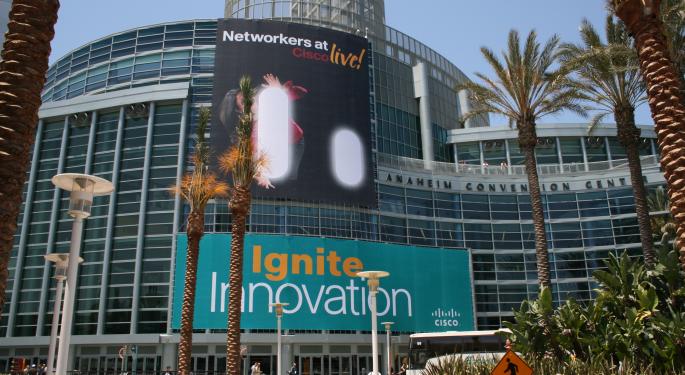 AppDynamics was in the final stages of prepping for an initial public offering, but the company's plans changed very quickly after Cisco Systems, Inc. (NASDAQ: CSCO) bought it out.
AppDynamics, touted as the first major tech IPO of 2017, was looking to raise as much as $165.6 million at a $1.9 billion valuation. However, Cisco bought the company for $3.7 billion.
According to TechCrunch, the two companies were talking about a combination of November, but initial talks didn't result in an acquisition. However, the discussions picked up last week and a deal was announced this time around.
Not Unusual
TechCrunch noted that it isn't necessarily unusual for a company that is days away from an IPO to sell itself. There is actually a term for this — "dual track process" whereby a company preps for an IPO while simultaneously fielding acquisition offers.
However, a source close to the deal told TechCrunch that the investment banking firm Qatalyst pitched the idea to Cisco and the deal was completed within just 48 hours.
How New Relic Fits In
New Relic Inc (NYSE: NEWR), a competitor to AppDynamics, filed for its IPO around two years ago, and its stock has been floating at its initial price for most of its trading history.
New Relic's stock began trading in December 12, 2014, at a price of $30.16 and closed the first trading day at $33.99 after hitting an intra-day high of $35.25.
Over the past 52-week, New Relic's stock traded as low as $20.39 and closed on Tuesday at $33.30.
Perhaps AppDynamics realized the market would treat its stock in the same fashion and after two years it would deliver zero gain to shareholders.
This theory may hold more validity when taking into account the fact that 2016 was a "poor year" for IPOs and the market may now have gotten ahead of itself having breached the Dow 20K milestone on Wednesday.
For its part, Cisco saw AppDynamics as an opportunity to grow its enterprise IT business but Cisco's investors may not be as enthusiastic as shares were higher by just 0.25 percent late Wednesday and lagged the approximate 0.66 percent gain seen in both the Dow Jones Industrial Average and the Nasdaq index.
Image Credit: By Figure8 (Own work) [CC BY-SA 3.0], via Wikimedia Commons
Posted-In: AppDynamics Cisco AppDynamics Acquisition Dow 20KM&A News IPOs Tech Media Best of Benzinga
View Comments and Join the Discussion!