Keep An Eye On Fannie And Freddie Tomorrow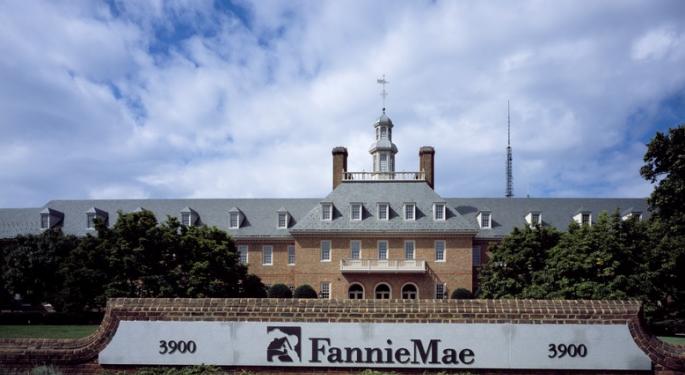 Federal National Mortgage Assctn Fnni Me (OTC: FNMA) and Federal Home Loan Mortgage Corp (OTC: FMCC) have seen their shares rally nicely post the election of Donald Trump, more than doubling from the $1.5 levels they traded before the elections.
Fannie, Freddie On The Move
The shares of both companies could react on Thursday if a tweet by Fox Business' Charles Gasparino is to be believed. Gasparino tweeted that the shares could move based on Steven Mnuchin's testimony during Thursday's confirmation hearing.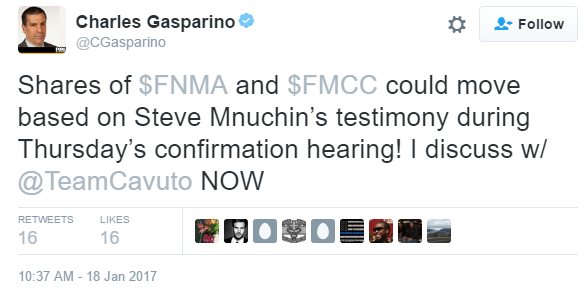 The Person
Mnuchin is Trump's nominee for the post of the U.S. Treasury Secretary. He was a former partner at Goldman Sachs and also a hedge fund manager. Mnuchin is also credited with the turnaround of failed home lender IndyMac, which he bought and ran under the name of OneWest Bank. At OneWest Bank, he courted controversy due to the unfair foreclosure practices the bank resorted to and the discrimination it showed in lending.
Why, And How Mnuchin Could Move?
Upon his announcement as nominee for the post, Mnuchin said the Obama administration would make sure these government sponsored enterprises are structured, absolutely safe and don't get taken over again. He suggested that these must be brought out of government control. On the day, Mnuchin's nomination was announced, Fannie Mae jumped 49 percent compared to a 46 percent rally in the shares of Freddie Mac.
It is being speculated that the Trump administration may prefer the GSEs to retain their profits and enter the private market. Any comments out of the confirmation hearing on the fate of these two GSEs could move their stocks.
Volatility is the name of the game in trading. Those of you who wish to trade the volatility in these stocks amid the unraveling of policy moves pertaining to them could do well to invest in the relatively immune preferred shares of these companies.
Notwithstanding the lackluster mood in the broader market, shares of Fannie Mae were up 3.12 percent to $3.96 and those of Freddie Mac were adding 2.13 percent to $3.84.
Image Credit: Carol M. Highsmith [Public domain], via Wikimedia Commons
Posted-In: Charles Gasparino Donald Trump fannie mae freddie mac IndyMacNews Movers Trading Ideas
View Comments and Join the Discussion!