Mylan's EpiPen Dropped From Cigna's Coverage List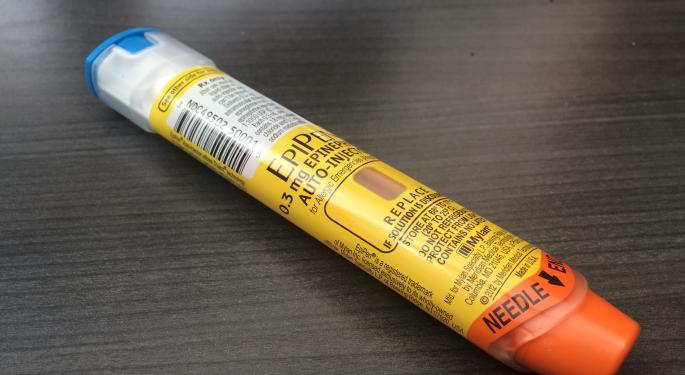 Shares of Mylan NV (NASDAQ: MYL) fell sharply Wednesday, after news broke that the EpiPen was being dropped from Cigna Corporation's (NYSE: CI) coverage list.
As of January 7, Mylan's Epipen was dropped from Cigna's prescription drug list.
The EpiPen maker has come under scrutiny in the past few months after the company notably increased the life-saving product by 500 percent, causing a subsequent investigation from Congress and considerable public backlash.
In October, Mylan reached a $465 million settlement with the U.S. government over accusations that it overcharged the Medicaid program by classifying the EpiPen as generic, instead of a brand-name drug, in order to pay lower discounts.
The drop in Mylan's shares comes alongside President-elect Donald Trump's statement regarding the pharmaceutical industry, hinting at a tightening of regulation, and claiming that the industry is "getting away with murder" in terms of product pricing. As Mylan upped the price of the EpiPen, its CEO Heather Bresch received a 671 percent increase in pay.
In mid-December, Mylan introduced a generic EpiPen that would cost $300, a near 50 percent discount to the regular version.
Mylan closed down 4.29 percent to $37.28.
Update: Cigna released the following statement to Benzinga:
"It is positive news for our customers who rely on the life-saving EpiPen Auto-Injector that Mylan has launched the first authorized generic version. The generic version, available now in pharmacies, has the same drug formulation and device functionality as the branded medication, but at a substantial cost savings. With this new development, we have revised our covered drug list to encourage use of the generic version as it will deliver more overall value to customers and clients. As with other situations, we will work with a customer's doctor if there is a reason to consider approving coverage for the non-covered brand drug as medically necessary."
Mylan also released a statement:
"We are aware of the recent changes to the Cigna formulary. The authorized generic for EpiPen Auto-Injector is now covered under the preferred category. EpiPen Auto-Injector is no longer covered. Mylan announced the launch of the authorized generic for EpiPen Auto-Injector in December. These formulary changes were anticipated and are why we anticipate successful generic utilization."
Posted-In: EpiPenNews Health Care General Best of Benzinga
View Comments and Join the Discussion!