Merrill Lynch Intensifies Employee Incentives Program While Wells Fargo Scandal Fallout Continues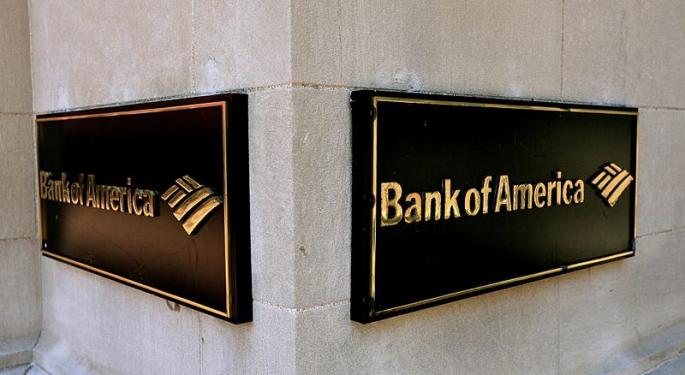 Stock brokers employed by Bank of America Corp (NYSE: BAC)'s Merrill Lynch division will now be required to make at least two client referrals to other divisions within the bank.
According to Market Watch, the brokers would need to complete this task or could face a cut in pay. Brokers who do not comply with the task could see 1 percent taken off their take-home pay or deferred compensation.
The report comes at a time when Wells Fargo & Co (NYSE: WFC) continues to face the scrutiny of both government regulators and the public for its own cross-selling practices which resulted in a highly publicized scandal involving the opening of up to 2 million unauthorized banking and credit card accounts.
Not The Same Story
There is, however, one distinct difference between Merrill Lynch and Wells Fargo's referral policies. Brokers at Merrill Lynch will receive credit for a referral regardless of it generates new business or not.
Meanwhile, Wells Fargo could receive a regulatory downgrade from the Office of the Comptroller of the Currency. The Wall Street Journal reported that a decision was scheduled for Thursday but was delayed for unknown reasons.
The regulatory body holds the authority to penalize a bank that was active in unfair and deceptive practices. It can further lower a bank's rating for purposes of the Community Reinvestment Act, which are related to banks' operations in lower- to moderate-income neighborhoods and used to evaluate applications for future approvals of mergers and acquisitions as well as new branch openings and other business matters.
At Last Check
Bank of America shares were up 0.2 percent at $23.
Wells Fargo shares were down 0.6 percent at $56.94.
Image Credit: By Alex Proimos from Sydney, Australia (Bank of America) [CC BY 2.0], via Wikimedia Commons
Posted-In: Bank Scandals Community Reinvestment Act Merrill Lynch Wells Fargo Wells Fargo ScandalNews Movers Media Best of Benzinga
View Comments and Join the Discussion!