Shippers Having A Strong Day Following Recent Slide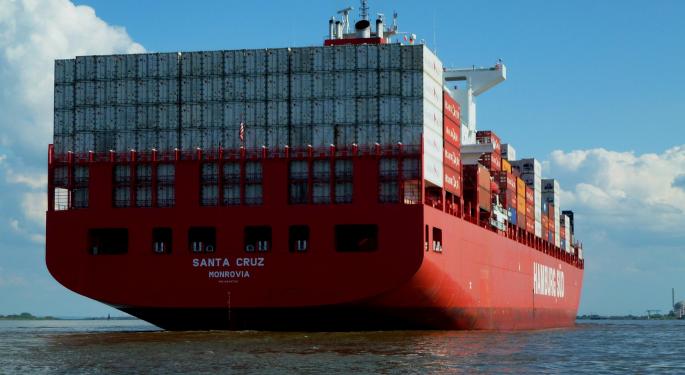 Shipping stocks are zipping by, recouping the losses made in recent sessions. After a strong sprint in the sessions that followed the U.S. presidential elections, shipping stocks retraced part of their gains by mid-November.
Recent Volatility
Then followed a consolidation phase. However, renewed selling emerged in late November, taking these almost to pre-election levels. However, the danger of the stocks falling below the levels has been averted, at least for the time being, as the sector is on fire yet again.
The volatile ride is more pronounced in small dry bulk carriers that have been squeezed short by sellers. Fundamentals are still patchy. Dry bulk shipping demand has stagnated as of late after being anemic in recent years. With the change of guard in the White House, stimulatory policy measures, infrastructure spending and protectionism may be the order of the day, which are positive for these stocks.
The Baltic Dry Index, a proxy for prices of transported goods such as cola, grain and iron ore, recently hit its highest level close to two years. Economic revival in China and policy changes expected domestically have been the main drivers.
Looking Forward
Can the rally in the shipping stocks last long enough? It is a tough question to answer in the wake of the choppy fundamentals. Since the stocks have come back from stratospheric levels, there is never really a threat of a plunge. So, brace for short periods of short spikes and moderate pullbacks driven by either news flow or momentum.
DryShips Inc. (NASDAQ: DRYS) for one found some news-related support, as Morgan Stanley disclosed picking up a stake in the company. The stock was up 3.91 percent at $4.78 on almost double its average volumes.
Among others in the sector, Euroseas Ltd. (NASDAQ: ESEA) was adding 4.27 percent to $1.95 and Diana Shipping Inc. (NYSE: DSX) was rallying 4.55 percent to $2.99.
View Comments and Join the Discussion!
Posted-In: dry bulk dry bulk carriers Dry Bulk ShippingNews Commodities Markets Movers Trading Ideas Best of Benzinga