How Have Movie Universe Spinoffs Performed Compared To The Originals?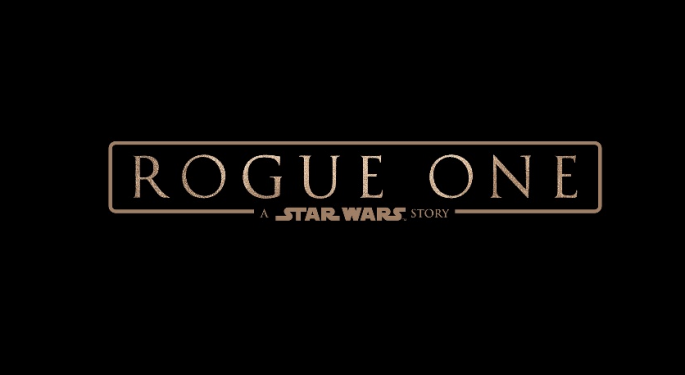 The "Star Wars" spinoff "Rogue One," which is set to hit screens on December 16, is expected to be one of the biggest movies of the year for Walt Disney Co (NYSE: DIS). Last year's "Star Wars Episode VII: The Force Awakens" grossed $936.6 million domestically for Disney, making it the second highest-grossing movie of all time.
The Spin-Off Tradition
What can Disney expect from the spinoff? The most recent mega-franchise movie spinoff is the Harry Potter spinoff "Fantastic Beasts and Where to Find Them." The movie grossed $75 million at the domestic box office for Time Warner Inc (NYSE: TWX) during its opening weekend. For almost any other franchise, a $75 million opening weekend would be considered a huge hit. However, the last Harry Potter movie, "Harry Potter and the Deathly Hallows Part 2," grossed a whopping $169.1 million domestically in its opening weekend.
Disney's Marvel Studios has also had its fair share of spinoffs in recent years as well. The last installment of the original X-Men trilogy, "X-Men: The Last Stand" grossed $234.3 million domestically. Spin-off "X-Men Origins: Wolverine" in 2006 grossed $179.8 million, and "The Wolverine" in 2013 grossed $132.5 million.
Twenty-First Century Fox Inc (NASDAQ: FOXA)'s X-Men spinoff "Deadpool" dominated the box office in 2016, delivering a $363 million domestic total.
The Bottom Line: 'Rogue One' Should Succeed
Disney is hoping "Rogue One" can deliver the same type of success that "Deadpool" did, but on a much larger scale.
BoxOffice.com is projecting a $135 million domestic opening weekend, well short of the record $247.9 million domestic opening weekend for "The Force Awakens."
Image Credit: By Walt Disney Pictures - Wars.com, Public Domain, https://commons.wikimedia.org/w/index.php?curid=42530101
Posted-In: Deadpool Fantastic Beasts And Where To Find Them Harry Potter Marvel StudiosNews Events Media Trading Ideas Best of Benzinga
View Comments and Join the Discussion!