Discussing The Fed's Political Bias Regarding Interest Rates As Elections Loom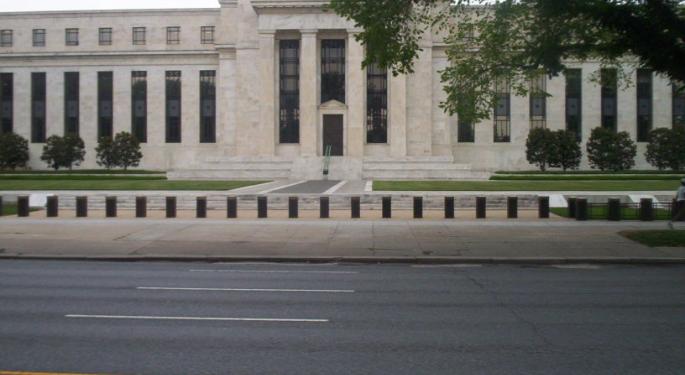 Every time presidential elections get close, the Federal Reserve's Federal Open Market Committee faces the same predicament: Should they act as usual, or should they wait until after the ballots? Will action be interpreted as a political move? Or, will the public see inaction this way?
This week's Fed meeting is no different in the sense that once again, the FOMC will have to decide whether to hike its benchmark short-term interest rate less than two months ahead of the elections.
To Act Or Not To Act — That Is The Question
"Whether 'tis Nobler in the mind to suffer/ The Slings and Arrows of outrageous Fortune / Or to take Arms against a Sea of troubles." —"Hamlet," William Shakespeare.
More than two decades ago, Fed Chairman Alan Greenspan proposed a (sort of) answer to the Shakespearean quandary the U.S.' Central Bank confronts. "I wish we had the luxury to sit back and do nothing until after the election as is the conventional procedure of the Federal Open Market Committee," he said. Of course, this means, they didn't count on such a luxury. However, in the end, the Fed decided not to act on that occasion, back in 1992.
Related Link: Former Fed President Fisher: Is The Fed Waiting On "Full Full Full Employment"?
Roughly 24 years later, the situation repeats, but the stakes seem higher, as both major candidates have made of criticizing the Fed a custom – and a political strategy.
"Experts said that probably reduces the already low chances of a rate hike before the election," even though Fed Chairwoman Janet L. Yellen said the election would not be a factor in the decision, an LA Times article explained. In fact, history backs the experts' view: The Fed tries to seem non-partisan, although its members usually are. The chart below illustrates this point – that rate hikes are unusual as elections get close.
As it can be appreciated above, the Fed only raised rates once within two months of an election — back in 2004 — out of eight elections held since the FOMC started making said decision. "Economic conditions in 1988 and 1996 pointed toward the need for increases, but the Fed held off on moves within two months of the election, [GailFosler Group's Bernadette Kilroy] Martin found," the article added.
It's More Than A Fundamental Difference
Rate cuts are a different issue, certainly easier to digest ahead of elections, as they stimulate the economy instead of slowing it down. Notwithstanding, this is a subject to look into on another occasion.
In the end, it seems like it's all about looking non-partisan, even if presidents appoint Fed members. "This close to an election, there should be a bias toward not acting rather than acting," Former House Financial Services Committee Chairman Barney Frank, a Massachusetts Democrat, concluded.
Full ratings data available on Benzinga Pro.
Do you have ideas for articles/interviews you'd like to see more of on Benzinga? Please email feedback@benzinga.com with your best article ideas. One person will be randomly selected to win a $20 Amazon gift card!
Disclosure: Javier Hasse holds no interest in any of the securities or entities mentioned above.
View Comments and Join the Discussion!
Posted-In: News Politics Events Econ #s Top Stories Economics Federal Reserve Media Best of Benzinga