Exclusive: Talking Clinton, Trump And Economics With Economist James M. Stone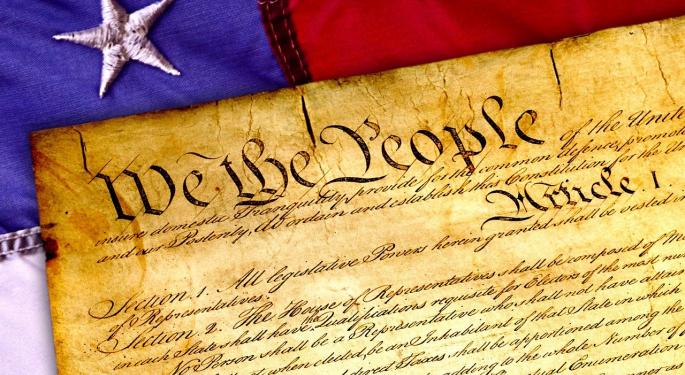 Benzinga had the chance to catch up with James M. Stone, economist and author of the New York Times Bestseller "Five Easy Theses," to talk about the upcoming election.
Stone's new book highlights five of America's greatest economic challenges and proposes commonsense solutions to solving these highly important but often overlooked issues.
"This election has turned out to be more about personality and character and less about issues in general than any other I've seen in a very long time — maybe ever," said Stone.
The five greatest economic challenges we are facing according to Stone include:
Fiscal Balance.
Inequality.
Education.
Healthcare.
Wall Street Reform.
Related Link: 3 Charts That Show The Fed's Words Actually Matter
Fiscal Imbalance
The longevity of Social Security is particularly worrisome, according to Stone. "It is like a car racing 50 miles per hour towards a brick wall."
Benzinga asked Stone which candidate he feels is better aligned to help with the deficit.
"Neither candidate has chosen to take on any issue involving interest deductions, because they aren't pleasant to take on during a campaign. They are not popular issues," he responded.
"Fiscal balance in general is a concern of mine. In the short term, it is really about the deficit. And in the long term, it is about social security. We give tax breaks that we shouldn't be giving that are larger than the whole deficit. At the moment, neither of them have taken on the issues in what I call 'unnecessary tax expenditures.' What I want to see done is to get rid of interest deductions. The whole mortgage interest deduction doesn't have much of an impact on housing and doesn't help the people that need it most."
"The bottom third of the population are all renters; they don't gain anything from it. The next third don't itemize deductions; they don't gain anything from it. So it only helps the top third. And it helps them in proportion to how big of house they have."
The sum of these deductions is bigger than the annual deficit, and Stone feels that if the country were to eliminate these tax breaks, our country would be in much better position to reduce our looming deficit.
Inequality
In terms of inequality, Stone sees quite a divide between the candidates when it comes to income inequality.
"I think Secretary Clinton has proposed some things that are probably helpful, and the way I see the issue, Mr. Trump has proposed things that have been harmful," Stone replied.
"In the last 40 years, median income hasn't gone up at all in the United States. There has been a tremendous amount of wealth that has been produced, and it has all gone to the top. Healthcare has gone up. Education has gone up. But median income has not."
"If you don't want it all of it to go to the top, you are just going to accept the fact that there are taxes that maybe unpopular but we need them, the estate tax is the most obvious."
"Mr. Trump said he would get rid of the gift and estate tax, and I think that would be a terrible mistake. If you get rid of the gift and estate, you end up with a financial aristocracy."
"Secretary Clinton has urged to go in another direction regarding the gift and estate tax. Restoring the rates that used to exist for the gift and estate tax, which I think is sensible. I would go much further than she would, but directionally, I think she is on the right course and he is on the wrong course."
As income inequality grows greater, "money is moving rapidly to the very top of the pyramid."
Related Link: Market Winners And Losers As Food Deflation Persists
Education
The education system is not serving the public very well. Seventy (70) percent of people don't go to college at all; "They need vocational training and they are not getting it. The thirty percent need affordable college and they are not getting it." said Stone

"You get this barbell effect, and people in the middle, they get squeezed out," Stone explained.
"I would like to see a national service program after high school for people who don't go to college [where they] can get vocational training. Neither candidate has come out for anything like that. However, Secretary Clinton wants to expand the voluntary programs. Mine would be like Americorp, but compulsory."
When asked if college is a good investment, Stone replied, "It may not be as good of an investment as it used to be, but I think a college degree is still a good investment. But a better investment for more people would be serious vocational training. Almost every developed country in Europe and Asia has serious vocational training program with apprenticeships — a whole method of teaching young people to do something useful in the job market. We don't do that, and it's what's really important."
Healthcare
"What's wrong in our healthcare system is that it costs too much. We pay 18 percent of GNP for healthcare, and nobody else pays much more than 10 percent. That's a trillion dollars a year more. To solve that, we need to take on a bunch of issues that the general politicians stay away from. We need to deal with diagnostic testing — most of which deals with the tort system. We need to deal with the costs of marketing and administration that is wasteful. We need to deal with the fact that we are probably the only country that pushes up pharmaceutical prices and allows price gouging. And we need to deal with end of life care, which is probably the hardest issue. At the minimum, we need to ask people what kind of end of life care they want and obey them."
Benzinga then asked what candidate will take a harsher stance on pharma price gouging and if any changes would be made.
"I am not optimistic. You can see in the passage of Obamacare, that there were two issues on the table: One was to make healthcare universal; the other is, 'Are we going to have a more effective and efficient system?' They took on the first one, but everybody ran away from the second one. If public policy were right, then the pharma industry would take some hit. If they are in the business of price gouging. But I am not optimistic that healthcare costs will come down the way it ought to come down."
Financial Reform
Stone feels that Wall Street regulation is inevitable, and his position echoed some of the positions seen from Senator Bernie Sanders during his campaign. He feels Dodd Frank did not go far enough.
"Mr. Trump made a lot of statements in the beginning that were useful, but recently, he has backed off those. What we need to do in respect to financial regulation is learn the lessons that were learned after the 1929 crash. Relearn those lessons: less leverage, more disclosure. And that means the hedge funds have to disclose more, that both the banks and the hedge funds should not be able to use the leverage that they use, and that the banks should be downsized."
You can pick up Stone's book "Five Easy Theses" here.
Do you have ideas for articles/interviews you'd like to see more of on Benzinga? Please email feedback@benzinga.com with your best article ideas. One person will be randomly selected to win a $20 Amazon gift card!
Posted-In: 5 Easy ThesesPolitics Topics Top Stories Economics Exclusives Interview General Best of Benzinga
View Comments and Join the Discussion!