Here Is Every Twitter Takeover Rumor Of 2016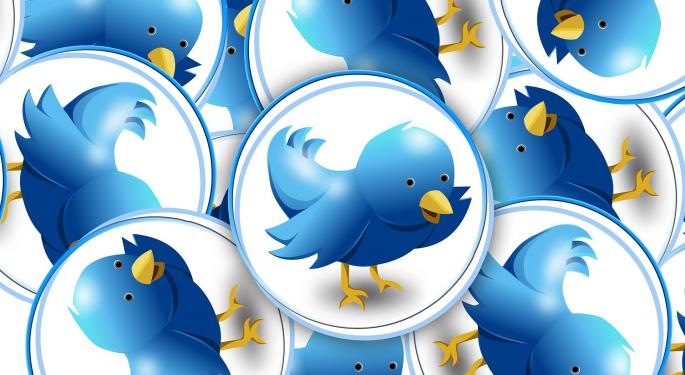 Twitter Inc (NYSE: TWTR) shares are sharply higher in Wednesday's session. In the absence of major news, the stock may once again be moving on rumors of a buyout. Shares are down 16 percent in 2016.
Although no deal has been announced, a number of possible buyers have been rumored to have an interest in Twitter this year. Here's a look back at all of Twitter's rumored suitors in 2016.
January 20: Twitter spikes 14 percent on rumors of a News Corp (NASDAQ: NWSA) buyout.
January 21: The Wall Street Journal's Miriam Gottfried suggests Alphabet Inc (NASDAQ: GOOGL) as a top Twitter buyout candidate. Gottfried also mentions Time Warner Inc (NYSE: TWX) and Twenty-First Century Fox Inc (NASDAQ: FOXA) as potential buyers.
February 1: The Information reports that Marc Andreessen and private equity group Silver Lake considered a Twitter buyout.
March 31: Twitter shares spike on renewed rumors that Google is considering a buyout at a 100 percent premium to market price.
June 3: The New York Post reports that Twitter and Yahoo! Inc. (NASDAQ: YHOO) discussed a potential merger.
Related Link: Jack Attack: Should Twitter Buy Square?
October 11: Faber Reports Twitter, Salesforce Still In Talks
October 14: FT Reports 'Twitter suitors vanish as Salesforce rules out bid'
June 13: Recode speculates that Google and Comcast Corporation (NASDAQ: CMCSA) are top Twitter buyout candidates.
June 17: Vanity Fair's Nick Bilton claims that Apple Inc (NASDAQ: AAPL), Google and Facebook Inc (NASDAQ: FB) are unlikely to bid for Twitter.
June 27: TechCrunch names Google as a possible Twitter buyer, sending shares higher. The article also mentions Verizon Communications Inc. (NYSE: VZ), AT&T Inc. (NYSE: T), Microsoft Corporation (NASDAQ: MSFT), Amazon.com, Inc. (NASDAQ: AMZN), Apple, News Corp and Facebook as potential buyers.
August 3: Rumors circulate that Steve Ballmer and Saidi Arabian Prince Al-Waleed bin Talal are interested in acquiring Twitter for $22-26 per share.
August 30-31: More speculation that Google may be interested in a takeover.
September 23: CNBC's David Faber reports Twitter is moving closer to a sale. Bidders could include Google and Salesforce (NYSE: CRM).
September 26: Bloomberg reports Disney (NYSE: DIS) is working with an advisor on a potential bid.
September 26: Faber reports sale could happen within 30-45 days; says Microsoft could be a potential bidder.
September 30: Bloomberg reports Alphabet's Google has tapped Lazard to review a potential bid.
October 4: WSJ reports Twitter is expected to field bids this week.
October 5: Source tells Benzinga Salesforce shareholders would not be happy with a purchase.
October 5: Recode reports Google, Apple and Disney are no longer considering a bid.
October 6: Source Familiar With The Matter Tells Benzinga Salesforce Interest in Twitter Began Early July, Deal Discussed Had Little To No Premium to Current Valuation
October 10: Bloomberg Reports That Top Bidders Have Lost Interest, Says Company May Consider Divestiture
November 14: Twitter Shares Spike Higher Over Last Min as Hearing Betaville Suggesting Disney Still Showing Takeover Interest
December 1: Betaville Reports Disney To Have Rekindled Interest In Buying Twitter, Price Agreed
View Comments and Join the Discussion!
Posted-In: M&A News Rumors Tech Best of Benzinga