Stocks That Are Affected By Hurricane Season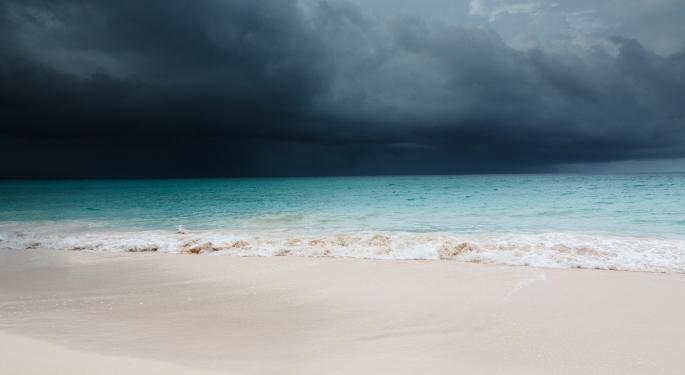 Wednesday's edition of Benzinga's PreMarket Prep featured an interesting conversation on what stocks are affected by hurricane season.
Two hurricanes, Lester and Madeline, are honing in Hawaii and residents are being encouraged to stockpile on water and emergency supplies ahead of what could be the first hurricane to make landfall in the island state in decades.
Sperately, a state of emergency has been issued for 42 counties in Florida and tropical storm watches have been issued across the Atlantic coast as Tropical Depression 9 heads for the Gulf coast.
Dennis Dick, the show's co-host, noted that the stock that typically benefits from hurricane season is Generac Holdings Inc. (NYSE: GNRC), a designer and manufacturer of power generation equipment and other engine powered products.
"If hurricane season starts to get a little bit more intense, this is a stock that often does catch bids," he said.
On the other hand, share of Generac tend to sell off if hurricane season isn't as damaging as previously assumed. As such, investors looking to speculate on the name should consider buying shares prior to hurricane season beginning but selling the stock before hurricane season ends.
Another hurricane related names investors could consider is Granite Construction Inc. (NYSE: GVA), a civil contractor and construction materials producer in the U.S. that holds several government contracts to work on streets, roads, highways and bridges.
Naturally, the do-it-yourself home improvement retailers also could come in to play if tens of thousands of homeowners find the immediate need to fix damages to their property. The two biggest players in the space are Home Depot Inc (NYSE: HD) and Lowe's Companies, Inc. (NYSE: LOW).
Finally, analysts at Macqurie explored what stocks to consider during hurricane season last year and the list of names include Arch Capital Group Ltd. (NASDAQ: ACGL), XL Group Ltd. (NYSE: XL) and Endurance Specialty Holdings Ltd. (NYSE: ENH).
Listen to the full discussion at 14:00 in the clip below.
PreMarket Prep is a daily trading ideas show that focuses on technical analysis and actionable short term trades. You can listen to the show live every morning from 8-9 ET here, or catch the podcast here.
View Comments and Join the Discussion!
Posted-In: Benzinga PreMarket Prep Dennis Dick Hurricane Season Hurricanes Stocks To Buy Hurricane SeasonNews Trading Ideas Best of Benzinga