Something Is Fishy In The Water
This article originally appeared on Monetarex, a private real estate research firm.
Something smells fishy here, but that doesn't necessarily mean there's cause for concern. The Food and Agriculture Organization has reported that per capita fish consumption is at an all-time high. 2014 saw 44 pounds of annual fish consumption per capita, with sushi restaurants in the U.S. seeing a 3.3% annual growth rate. Fish farming and aquaculture provide half of all fish for global human consumption. Mull over investing in aquaculture the next time you're enjoying a smoked salmon.
CalPERS Disappoints
The California Public Employee's Retirement System (CalPERS) has reported their 12 month net return on investments, which clocked in at a preliminary 0.61%. CalPERS total real estate allocation is at 9.3% with the total portfolio value of $27.5 billion.
Institutional returns have been poor. Wilshire Trust Universe Comparison speculates that the twenty-year annualized return for public pensions in the U.S. will decline to 7.4%. Yikes.
Moon Express became the first private company to get permission to land on the moon. CalPERS was one of the first among public pension funds to invest in private real estate. Once speculative, real estate strategy has changed to a core investment; risk was decreased during the downturn, but lower returns are seen in the up market. CalPERS has been moving away from speculative investments like condo developments towards safe cash flow deals like shopping centers.
Private real estate has often been praised for its frequent high returns and diversification benefits. Because private real estate has little, no, and sometimes negative correlation in regards to stocks and bonds, its value rises and falls almost independently to the outside market. If only this correlation carried over to age and metabolism.
Unfortunately, just like all private equity, a real estate portfolio is expensive to manage. Senior investment officer Paul Mouchakkaa has noted that CalPERS intends to decrease the number of investment advisors the fund hires over the next few years from 70 to 15.
Here are some notable CalPERS partnerships from 2015-2016. Developers take note, these investment managers invest equity on JV basis and are looking for great deals: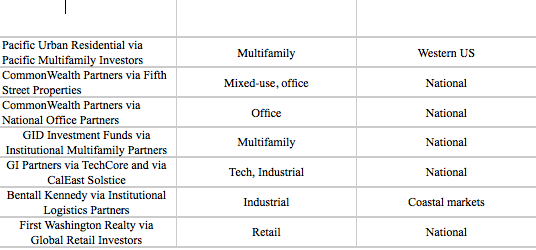 View Comments and Join the Discussion!