New York Stock Exchange Seeks To Smooth Early Morning Trading In Times Of Panic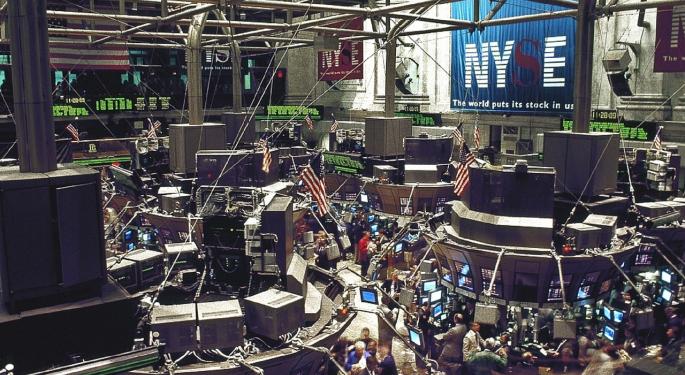 The U.S. Securities and Exchange Commission has approved plans by the New York Stock Exchange to speed up and smooth early morning trading in times of market stress, according to a report on Reuters.
"In a ruling released on Tuesday, the SEC said the NYSE could allow stocks to open for trading on particularly volatile days, even in the absence of clear price disclosure that is normally required before trading opens," the report read.
The NYSE requested the new regulations after "disorderly" trading on August 24, 2015. That mid-August date saw a record intra-day drop in the Dow Jones industrial average.
Related Link: The Market In 5 Minutes: Improved Jobless Claims, A Big Food Acquisition And Pepsi's Latest Earnings
Reuters explained the situation, "On volatile days or when trading was disordered, the exchange could invoke its 'Rule 48,' allowing market makers to open trading on stocks manually on a case-by-case basis, even if they could not identify a stable price." That said, Rule 48 sometimes slowed the ability of shares to start or resume trading as it required human judgment and interaction.
The new rules would eliminate Rule 48; in its place, specific guidelines would be implemented to "set up specific guidelines for when shares could open or be reopened after a trading halt."
"The theory is that this will allow trading to start more quickly."
Opinions
"This is really a consolidation to make it a bit more deterministic, orderly and more rules-based, so it is a very good thing, smart move by the exchange," Reuters reported, quoting Jamie Selway, a market structure analyst at ITG in New York.
However, not all market participants are positive on the changes.
Ken Polcari, director of the NYSE floor division at O'Neil Securities in New York commented that market participants will "really realize that it's a mistake when one day the markets are really under stress and stocks just open like that and there is no opportunity to slow it down."
Ahead of any actual changes, the exchange requires technological changes prior to the implication of these new rules.
View Comments and Join the Discussion!
Posted-In: ITG Jamie Selway ReutersNews Legal Tech Media Best of Benzinga