How 2 CEOs Earned Millions From Zero-Valued Stock Awards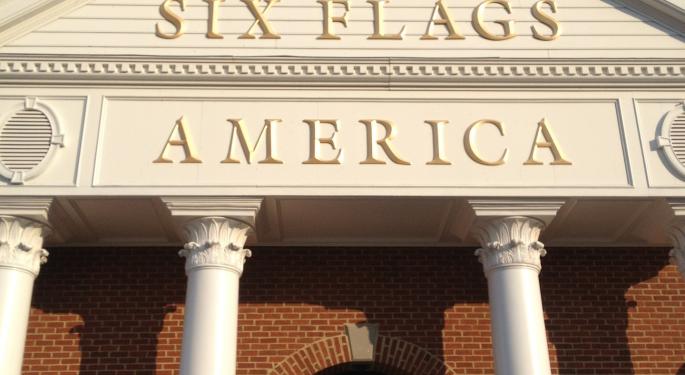 As surveillance over executive compensation escalates, Bloomberg reported that Six Flags Entertainment Corp (NYSE: SIX) and Tempur Sealy International Inc (NYSE: TPX) have "awarded millions of dollars in stock to top bosses and given the equity a unique value: zero."
Zero-Valued Stock
In order to have access to that figure, these companies "set performance targets they said were unlikely to be met," Bloomberg added.
"It's very unusual for a compensation committee to grant a performance award that really has no hope of being earned," said John Roe, a managing director at a unit of proxy adviser Institutional Shareholder Services Inc., told Bloomberg.
Related Link: Six Flags Arabia? Saudi Arabia Seeks Amusement Parks To Boost Tourism
"Even if the award likely won't be earned, 'that's not the same as it having a zero value at the date of grant,'" Bloomberg quoted Roe as saying.
According to U.S. accounting rules, the probability of equity to "vest" should determine performance-based equity, "not a single company in the Standard & Poor's 500 Index that's disclosed pay for 2015 awarded zero-value stock that year, according to data compiled by Bloomberg."
So, How Did It Happen?
According to Bloomberg, Six Flags and Tempur Sealy were able to do this likely because of their largest investor, hedge fund H Partners Management.
The report said, "As H Partners amassed stakes in amusement park operator Six Flags and Tempur Sealy [...] and took seats on their boards, the companies adopted new pay-for-performance goals."
Six Flags
Bloomberg continued, "The shares set aside for Reid-Anderson and five other top managers would vest only if the company reached $330 million in adjusted earnings before interest, taxes, depreciation and amortization for 2011 — 12 percent above the 2010 result."
Six Flags, reaching $350 million of EBITDA in 2011, exceeded the target. This resulted in "the six executives received shares worth $49.6 million on the day they paid out, according to regulatory filings." Furthermore, Reid-Anderson received $34.5 million of the $49.6 million.
Tempur Sealy
Meanwhile, the hedge fund began buying shares of Tempur Sealy in 2012; it now owns 11 percent of the company.
"Shortly after the board shake-up, at least five senior executives, including new CEO Scott Thompson, were granted stock tied to posting $650 million in adjusted EBITDA in 2017, a 43 percent increase from 2015. The shares were worth $81 million on the day they were granted but were listed without a value in the summary compensation table since the goal was considered 'not probable.'"
Bloomberg noted, "If Tempur Sealy had assigned a value to the grant and included it in its 2015 compensation table, Thompson's reported pay could have been as much as $68 million. That's almost triple the $23.3 million that was shown in the table."
Shares of Six Flags closed Tuesday's regular trading session at $56.42 and Tempur Sealy closed at $59.25.
View Comments and Join the Discussion!
Posted-In: Bloomberg H Partners Management Institutional Shareholder Services John Roe Scott ThompsonNews Management Media Best of Benzinga