Twitter May Not Have As Many Suitors As The Market Thinks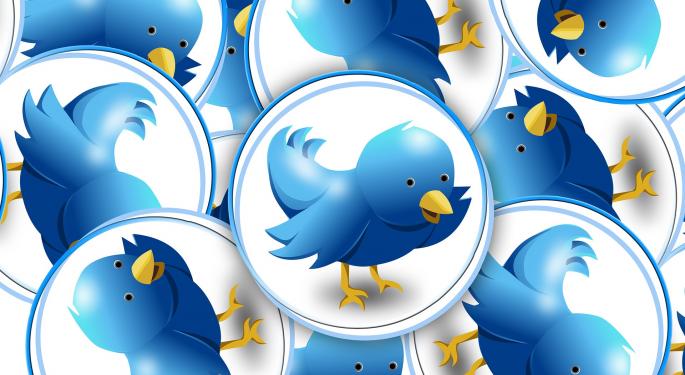 LinkedIn Corp (NYSE: LNKD) shareholders weren't the only big winners this week when Microsoft Corporation (NASDAQ: MSFT) announced it was buying the social media company for $26 billion.
Shares of Twitter Inc (NYSE: TWTR) are up 14.7 percent this week on market speculation that the company could be the next blockbuster social media buyout.
According to Vanity Fair's Nick Bilton, a buyout won't happen anytime soon.
The problem with a Twitter acquisition, as Bilton sees it, is that most of its potential suitors have other priorities at the moment. Former Apple Inc. (NASDAQ: AAPL) board member and personal friend of Alphabet Inc (NASDAQ: GOOGL) CEO Larry Page says Google's priorities are artificial intelligence and driverless cars and that the company now has "zero" interest in Twitter.
Related Link: Did Microsoft Get A Good Deal On LinkedIn's User Base? Here Are 7 Other Buyouts To Compare
When it comes to Apple, Bilton points out Apple already has a fairly robust social network and it is also focused on automobiles. In that sense, Bilton sees Tesla Motors Inc (NASDAQ: TSLA) as a more likely Apple buyout target than Twitter.
Finally, social media rival Facebook Inc (NASDAQ: FB) could be another potential Twitter suitor. Bilton isn't convinced.
"Zukerberg has a philosophy of either trying to buy a company, or simply seeking out on a path to destroy it," he writes. "My feeling right now is that Facebook has entered the latter part of that equation when it comes to Twitter."
Despite this week's surge, Twitter's stock remains down 53.8 percent in the past year.
Disclosure: the author holds no position in the stocks mentioned.
Posted-In: Nick Bilton Vanity FairM&A News Rumors Tech Best of Benzinga
View Comments and Join the Discussion!