Prince Day Brings Detroit Community Together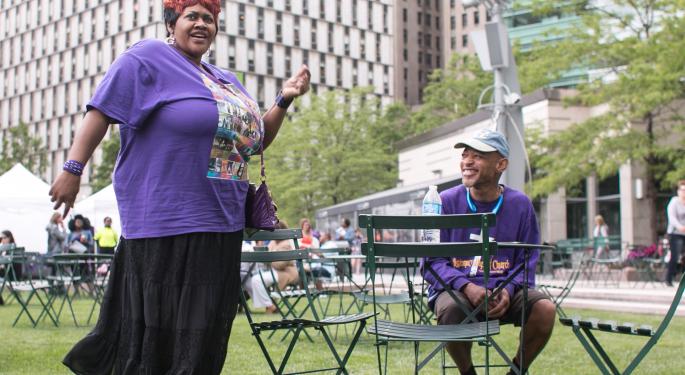 On June 7, residents from around the Detroit area gathered in Campus Martius Park to celebrate the life of the late musical genius and icon, Prince, who passed away on April 21. Many people dressed in purple attire and wore fun outfits to come remember and celebrate the life of their favorite musician.
Residents gathered from all around the Michigan area to come enjoy a day in the park, listen to a live band perform Prince songs and enjoy some art by local artists.
Prince will be remembered as a musician who made a huge impact in Detroit. He was iconic for his unique and funky style and several performances in Detroit. This was a special way to honor his role in Detroit as a funkadelic rock-star who had a special way of interacting with his crowd.
Related Link: Post Mortem Prince Sets New Billboard Records
This was a unique experience in Detroit because Campus Martius has been putting on different events throughout the year that has invited the community to come share a special day together. This was a good way to bring together the community in Detroit and celebrate the life of Prince, who shared a huge love for Detroit.
This event showed how music plays such an important role in bringing together a community.
Special Connection
Gregory Hollenquest, who is from Detroit, decided to spend his afternoon in Campus Martius decked out in his purple Prince gear. Among the crowd, Hollenquest's eccentric vibe was enlightening. He was sitting at a nearby table working on a book he's planning to write about his favorite musician.
"I was 13 when I first started to listening to Prince," Hollenquest said.
Hollenquest described a time while he was serving in the army where he won a lip sync contest at a battalion. He served eight years in the army in desert storms as a Non-Commissioned Officer in charge of Health and Welfare in Kuwait and Saudi Arabia during the search for Saddam Hussein.
Hollenquest chose to enter the lip sync contest and chose "Kiss" by Prince, his favorite song, and won the entire contest. His commander was so excited about his performance that he even gave Hollenquest an award for his great performance.
Related Link: Prince's Financial Life Was In Chaos, Only Trusted 'Beautiful, 20-Something Women'
Ferndale resident LaDonna Smith has been listening to Prince since she was a little girl. Smith said she loves the way Prince sings the melody in the song "Insatiable." LaDonna loves introducing her friends to songs that nobody has heard of. She was wearing a shirt she designed herself that is comprised of 58 of Prince's albums.
Along with LaDonna was her friend Ricky Williams, who lives in Detroit.
"That's the only artist he likes," LaDonna said about Ricky.
The two shared a laugh while LaDonna continued to dance.
"That's the only man I love," Ricky replied.
Other families and children gathered in the park to enjoy a very talented band that was playing Prince songs all afternoon. It was a special day in Detroit and a special day to celebrate the life of the late funkadelic artist who has touched the heart of Detroit.
Stock chart: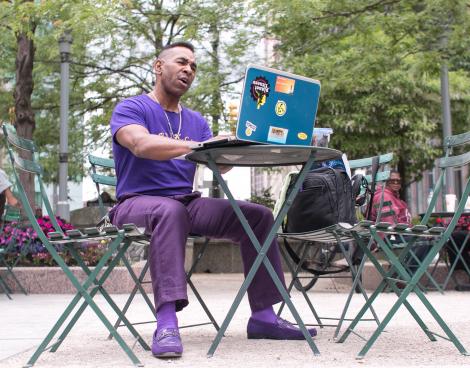 Posted-In: #PrinceDay Campus Martius Detroit Gregory HollenquestNews Events Exclusives Interview Best of Benzinga
View Comments and Join the Discussion!