Why Everybody Is After Niobium: A Commodity 'No One Knows About'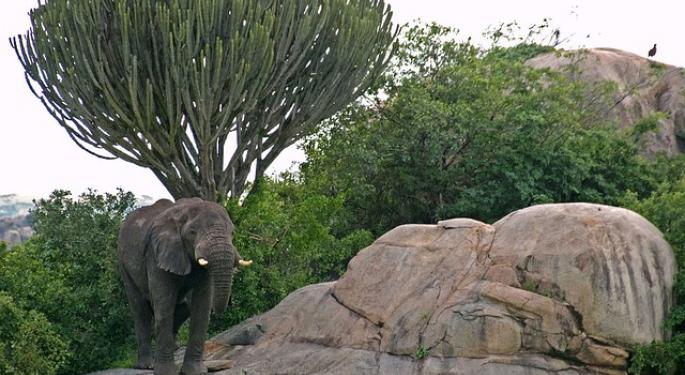 The ongoing slump in commodity prices has tested even the best in the business, but there is one commodity that is gaining a lot of interest.
It is called niobium, a chemical element with symbol Nb and atomic number 41. It is named after Greek goddess Niobe, the daughter of Tantalus. The metal is used to make stronger yet lighter steel, and is seven times more valuable than copper.
A Bloomberg report stated China Molybdenum Co. outbid at least 15 companies in April to buy the niobium and phosphate unit of Anglo American plc (ADR) (OTC: NGLOY) in Brazil. The purchase price was offered for $1.5 billion, or 50 percent more than analysts expected.
Other Recent Interest
"The buying frenzy that included Vale SA, Apollo Global Management LLC and X2 Resources showcased the growing appeal of a market that may be worth $4 billion for a soft, silvery metal many experts don't know much about," the report said.
Related Link: Are Central Bankers To Thank For The Surge In Gold Prices?
"I didn't know what niobium was, and I had been in the minerals industry for 20 years before this opportunity came across my desk. I had to actually open up the periodic table just to double-check that it was an element. It definitely is a boutique space," Craig Burton, the chairman of Cradle Resources Ltd. told Bloomberg.
Australia-based Cradle Resources is seeking to develop the $200 million Panda Hill niobium project in Tanzania.
The report says Cia. Brasileira de Metalurgia & Mineracao in Brazil supplies more than 80 percent of the metal; global demand for niobium is between 90,000 and 100,000 metric tons per year.
Metal Bulletin Ltd., a company that publishes prices for metals even as obscure as bismuth and germanium, has said "there's not enough liquidity to report one for niobium," reported Bloomberg.
"Niobium is a very unique business," the report said, quoting Kalidas Madhavpeddi of CMOC International unit of Luoyang, China-based China Molybdenum. "We typically want to buy from people who regret selling it. We've been very carefully assembling a war chest in anticipation of a downturn in the industry."
In 2014, Magris Resources Inc. — founded by Aaron Regent, former Barrick Gold Corporation (USA) (NYSE: ABX) CEO — agreed to pay $530 million for the Niobec mine in Canada.
Back To Anglo
Bloomberg, citing a research report from Argonaut, noted, "Unsuccessful bidders in Anglo's sale may turn their interest to Cradle's Panda Hill project in Tanzania," which pending financing, is expected to start producing niobium in mid-2018.
These sales "have brought a lot of participants in," Cradle's Burton told Bloomberg. "There was only one winner. That leaves lots of parties that might be interested in talking to us because we do need to raise some capital to bring this project on."
View Comments and Join the Discussion!
Posted-In: M&A Emerging Markets Commodities Global Top Stories Markets Media Trading Ideas Best of Benzinga