FireEye Swoons, Recovers Amid Erroneous Conference Cancellation
FireEye Inc (NASDAQ: FEYE) had an eventful Thursday, opening at $18.28, diving to $17.68, and subsequently recovering beyond the open to a daily high of $18.50.
The activity is due to rumors that the cybersecurity company had opted out of upcoming conferences. However, a FireEye spokesperson has since stated no upcoming conferences have been canceled.
In an email to Benzinga, the spokesperson said, "We haven't cancelled any conferences and in fact we are more active than ever on events. We have numerous FireEye conference happening across the globe. In fact just this week we hit all Major continents simultaneously with our cyber defense events. Every event had record turnout."
Furthermore, FireEye's events page shows no such activity, nor has any official statement from the company been released regarding any cancellations.
Related Link: FireEye Says It Hasn't Canceled Any Conferences
The first quarter results for FireEye are slated to be announced May 5, after market close.
Upcoming Events
Quite the contrary, FireEye has tweeted throughout the day about its upcoming conference in London.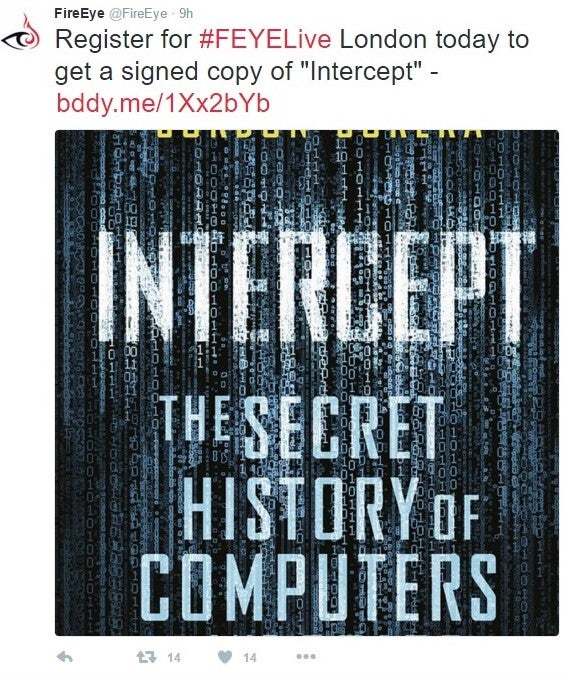 The FireEye Cyber Defense Live London event is scheduled for April 19, and registration through the site remains open.
According to FireEye, "FireEye Cyber Defense Live is Back! This is a must attend event for those wanting to uncover the real truth about preparing for and responding to cyber attacks."
"Come and hear experts from our recent exciting acquisition – iSIGHT Partners, who bring new and deeper security intelligence to the discussion, plus our world-class team of incident response experts, Mandiant, will be providing on-site advice and consultation. Alongside our experts, we will be joined by industry specialists and peers who will be discussion their cyber security challenges and how they have been overcome."
According to StreetInsider, "Earlier chatter about the cancellations stoked rumors about a potential takeover by IBM (International Business Machines Corp. (NYSE: IBM))."
Posted-In: Cybersecurity iSIGHT Mandiant StreetInsiderNews Events Movers
View Comments and Join the Discussion!