Here's Why Odyssey Marine Plunged 55%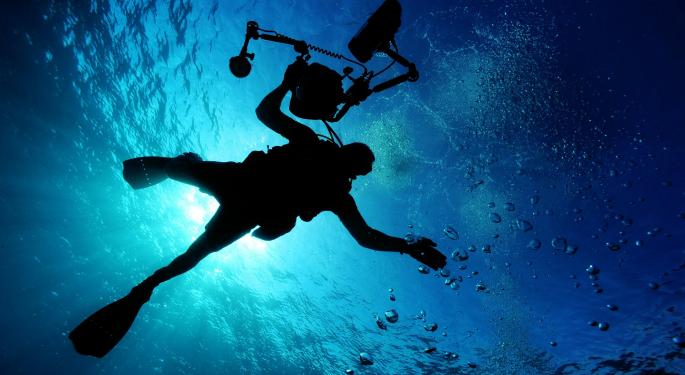 Shares of Odyssey Marine Exploration Inc (NASDAQ: OMEX) plunged 55 percent on Monday after the company announced a key business update.
Odyssey Marine said it was informed by the Mexican Secretary of Environment and Natural Resources (SEMARNAT) it was denied an application for an environmental license for the Don Diego region.
The company stated, "Phosphate is a key and irreplaceable component of fertilizers, and the location of the "Don Diego" deposit makes it an attractive potential sourcing site for the Mexican fertilizer and agricultural industry. The project proposed to use standard dredging ships and equipment, which have been in use for decades in Mexican waters with a proven track record of minimal environmental impact."
Odyssey Marine's prospects in Mexico was recently highlighted by a Street Sweeper report.
Odyssey Marine noted the denial is due to an environmental impact to turtles. The impact was highlighted by the Inter-American Association for Environment Defense in a report back in April, 2015.
Odyssey Marine did, however, state that the Mexican government provided three different avenues to move forward with the project and that it is evaluating all options available.
"While the denial was obviously a very disappointing outcome, after an extensive review of SEMARNAT's decision, we are impressed by the thorough process which included over 16,000 pages of submissions from our team with more than 2,700 subsections and responses to more than 90 specific questions posed by SEMARNAT scientists and technicians," commented Mark Gordon, Odyssey president and chief executive officer. "We are pleased that taking into consideration the large number of potential environmental impacts that were evaluated, the denial was focused only on a single issue, the potential impact of dredging operations on sea turtles, which we believe was based on misinformation.
"The size and quality of the "Don Diego" phosphate deposit and the ability to extract it without environmental impact in a cost efficient manner is vitally important to the future of the Nation," said Alonso Ancira, executive chairman of Altos Hornos de Mexico S.A.B. de C.V. "I am confident that this project will proceed once we make the Mexican government aware of the great benefits that our project will bring to the local turtle population represented in the new turtle and fishing management programs that we will be presenting in the coming weeks."
View Comments and Join the Discussion!
Posted-In: Alonso Ancira Don Diego Mark Gordon Mexican Secretary Of Environment And Natural ResourcesNews Short Sellers Small Cap Movers Best of Benzinga