Jamie Dimon: JPMorgan Could Theoretically Buy Every Bank's Stress-Test Losses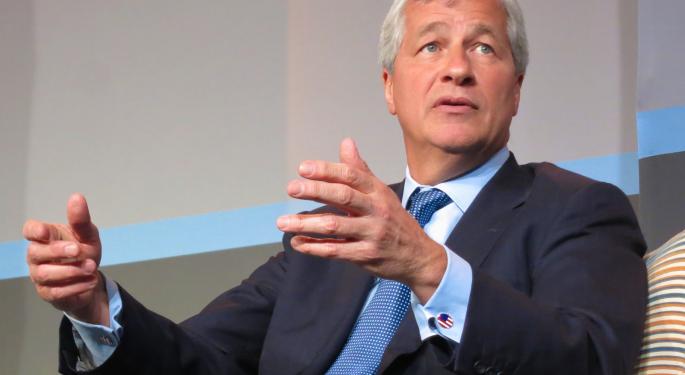 JPMorgan Chase & Co. (NYSE: JPM)'s CEO Jamie Dimon touted his bank's financial strength in the bank's annual letter to shareholders.
According to Dimon, JPMorgan Chase "did absolutely fine" during the 2008 and 2009 financial crisis, as the bank "never lost money," continued to serve clients and integrated Bear Stearns and Washington Mutual's business.
Despite the strong performance at a difficult time, the Federal Reserve requires JPMorgan and every other large bank to undertake stress tests, which assumes conditions that are "effectively far worse" than 2009's realities.
Related Link: Digging For Dimon
Dimon said that under a worst case scenario the company would lose $55 billion over a nine-quarter period, representing an amount that the company could "easily manage" given the strength of its capital base.
In fact, Dimon claimed that JPMorgan's financial strength is powerful enough to "bear all the losses, assumed by CCAR, of the 31 largest banks in the United States."
Dimon also reassured shareholders in his letter.
"Because of regulations and higher capital, large banks in the United States are far stronger," Dimon wrote. "And even if any one bank might fail, in my opinion, there is virtually no chance of a domino effect. Our shareholders should understand that while large banks do significant business with each other, they do not directly extend much credit to one other. And when they trade derivatives, they mark-to-market and post collateral to each other
every day."
Shares of JPMorgan were trading flat at $58.82 early Thursday morning.
Image Credit: By Steve Jurvetson (Flickr: Jamie Dimon, CEO of JPMorgan Chase) [CC BY 2.0], via Wikimedia Commons
View Comments and Join the Discussion!
Posted-In: banks BEAR STEARNS Federal Reserve Jamie Dimon JPMorgan stress testsNews Economics Best of Benzinga