Dow Jones, Wall Street Journal Reporting Alaska Air To Buy Virgin America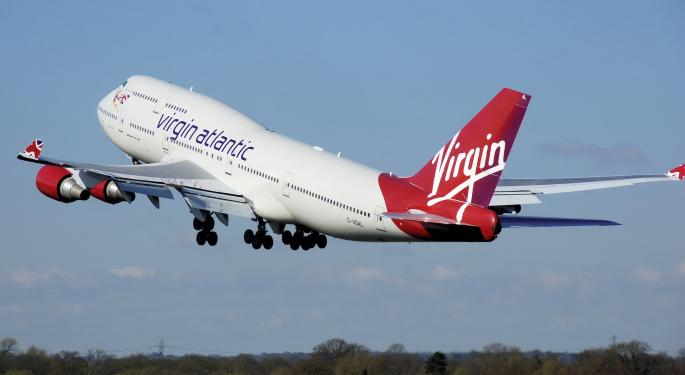 Citing people familiar with the matter, the Dow Jones has reported in its Wall Street Journal that Alaska Air Group, Inc. (NYSE: ALK) is likely to be the purchaser of Virgin America Inc (NASDAQ: VA) in an ongoing auction for the airliner.
"The company is nearing a deal to buy Virgin America after beating a rival bid by JetBlue Airways Corporation (NASDAQ: JBLU), the people said," according to the Journal.
While the deal is still not concrete, a decision may be made as early as Monday, April 4, the report continued.
What Alaska Air Brings To The Table
While Virgin has a market value around $1.5 billion, the bid from Alaska Air is rumored to be upward of $2 billion, "following a surge sparked by recent news that the company was in play," the Journal recapped from its sources.
Related Link: Math Shows A JetBlue Or Alaska Air Merger With Virgin Is 15% Accretive
By pairing Alaska Air with Virgin, the combined entity would surpass JetBlue as the United State's number five airline by traffic numbers.
Furthermore, "A takeover of Virgin America would suggest consolidation in the industry is moving to the regional carriers and ultradiscounters after mergers between 2008 and 2013 combined eight big carriers into four, which now control more than 80 percent of the U.S. domestic market.
Alaska Over JetBlue
According to Bloomberg, Virgin has received bids from both Alaska and JetBlue.
After Virgin Group founder and Virgin America backer Billionaire Richard Branson "put itself up for sale," the bids quickly came in, Bloomberg reported. "Discussions between Virgin America and the two bidders are ongoing, and a deal could be announced as early as next week […] It is unclear if other suitors will emerge, and Virgin America may yet decide to abandon sale negotiations in favor of remaining independent."
Earlier this week, the Journal cited Cowen & Co. analyst Helane Becker as suggesting JetBlue could likely be considered the most obvious forerunner, "She added that JetBlue would make the most sense for Virgin from an aircraft, network and product-offering perspective."
However, UBS analyst Darryl Genovesi provided his opinion earlier in the week as well, stating that Alaska Air was positioned more strategically to make such a large acquisition. "While fleet commonality with VA has been frequently mentioned as advantage for JBLU, JBLU also has more financial leverage and more strategic initiatives already underway, making a major acquisition a more difficult proposition for it than for ALK."
At this time, the report has not been confirmed.
Image Credit: Public Domain
View Comments and Join the Discussion!
Posted-In: Bloomberg Cowen & Co Darryl Genovesi Dow Jones Helane BeckerM&A News Rumors Best of Benzinga