It's Tesla Vs. GM In Indiana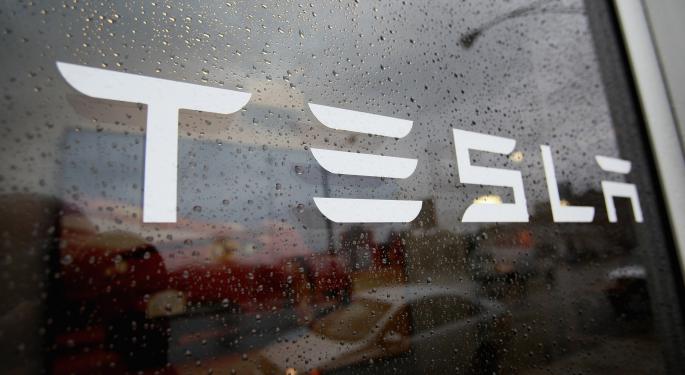 Indiana is the new battleground for General Motors Company (NYSE: GM) and Tesla Motors Inc (NASDAQ: TSLA), Autoblog wrote, and the point of contention is a new law that would prohibit any manufacturer from being able to hold a dealer license after December 31, 2017.
Tesla said the law HB1254 is being "authored and pushed" by GM. The law says, "All dealer licenses issued to a manufacturer under this chapter expire thirty (30) months after the date on which the first dealer license is issued to the manufacturer under this chapter. A dealer license issued to a manufacturer under this chapter may not be renewed."
According to the law, which comes in to effect from July 1, Tesla may not sell its vehicles in Indiana after December 31, 2016, and it may not renew its dealer license. Existing law allows any manufacturer to apply for a dealer license without the use of independent franchised dealers.
Bolt Vs. 3
It's not a surprise that Tesla is alleging GM for the push of this new law Indiana as Tesla's Model 3 will directly compete with GM's Bolt , when these two vehicles come to the market. Both of them will be sold in the 200-plus mile, low-cost, all electric category.
Tesla has a license to sell its vehicles directly in the state since 2014 and claims it has contributed over $42 million to the state through the purchase of parts and components from Indiana suppliers. It also plans to construct a 26,000 square foot Tesla Service facility that will employ approximately a dozen Indiana residents.
The mysterious dealer laws in the US puts Tesla at crossroads as customers should go to another state to buy or service a Tesla vehicle. Should other states also take the Indiana route, it will make buying a Tesla car difficult versus GM. A follow up hearing on the issue will be held on February 25, 2016, at the Capitol building.
View Comments and Join the Discussion!
Posted-In: Autoblog Bolt Chevy Bolt Model 3 Tesla Model 3News Legal Top Stories Best of Benzinga