IBM's Watson Gets Even More Data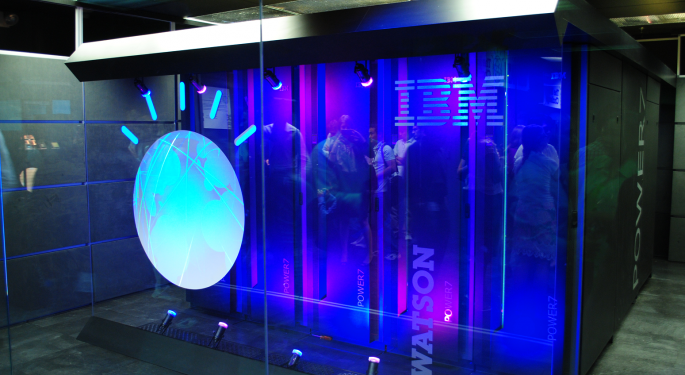 This week, the Wall Street Journal reported that International Business Machines Corp. (NYSE: IBM) is spending $2.6 billion in order to acquire Truven Health Analytics Inc. The deal will boost IBM's artificial intelligence efforts by providing its Watson computer with a slew of new data.
IBM Investing In Healthcare
The size of IBM's Watson Health business will double following the acquisition, and the firm will be able to offer a slew of new services to doctors and hospitals using data from Truven. This follows years of investing in medical-technology companies in order to bolster Watson's capabilities.
Related Link: IBM Expands Its Watson Ecosystem In India
Watson In Healthcare
IBM's work to develop Watson has created several potential areas for growth, as the computer's ability to learn by sorting through huge volumes of data will make it an asset to several industries.
However, one of the most promising spaces for Watson's expansion is healthcare. The computer's vast knowledge is expected to eventually make it easier for doctors to diagnose conditions and make educated guesses about how different symptoms are linked. Watson can use historical data to make medicine more precise and give doctors a new resource with which to diagnose their patients.
Data-Driven Healthcare
IBM's positioning in the healthcare space will be important to the company's future growth as healthcare in the United States falls under more and more scrutiny.
Data-driven healthcare will likely help cut out necessary procedures and lower the costs to hospitals and insurers – a welcome change at a time when rising costs have been the subject of hot debates. As Watson becomes increasingly more accurate, the computer will likely be better able to improve results-driven healthcare as well.
Image Credit: By Clockready - Own work, CC BY-SA 3.0, https://commons.wikimedia.org/w/index.php?curid=15891787
Posted-In: AI artificial intelligenceNews Health Care Markets Tech Trading Ideas General
View Comments and Join the Discussion!