Can Artificial Intelligence Beat 2,500-Year-Old Chinese Game? Facebook And Alphabet Race To Find Out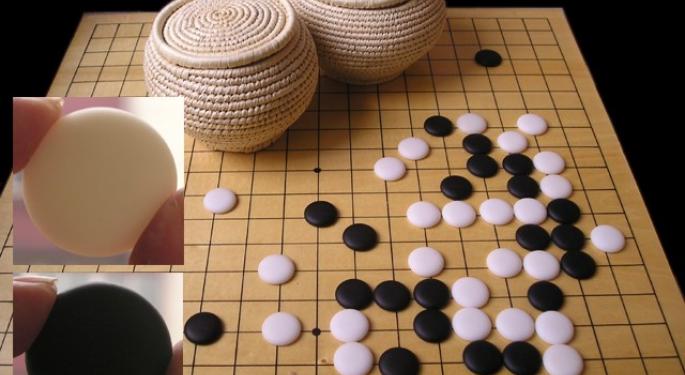 Facebook Inc (NASDAQ: FB) and Alphabet Inc (NASDAQ: GOOGL) (NASDAQ: GOOGL) are "racing" to develop a mega-artificial intelligence machine capable of besting humans at a 2,500-year-old Chinese board game, Go, according to Tech Insider.
The East's Chess
According to Mark Zuckerberg's personal Facebook page, the company is "getting close" to beating the best human competitors of the eastern chess-like game.
With trillions of possible moves and a 20-year legacy of attempted computer champions, developing a proper computer contender is no easy feat. "Scientists have been trying to teach computers to win at Go for 20 years," Zuckerberg wrote on his Facebook page. "We're getting close, and in the past six months we've built an AI that can make moves in as fast as 0.1 secs and still be as good as previous systems that took years to build."
Related Link: Does iPhone Technology Have A Rival In Augmented Reality? This Tech Insider Thinks So
Facebook Isn't The Only One Trying To Beat Go
Tech Insider wrote that Google is also involved in the development of AI with the goal of beating Go's best human players.
Google's DeepMind Chief Demis Hassabis spoke at the British Museum in 2015 about that very endeavor, according to the report.
Similar to Zuckerberg's claim, Hassabis shared that DeepMind is likewise "very close" to developing a Go computer champion.
At The Time Of This Publication...
Alphabet (GOOGL) was seen trading down 1.36 percent at $723.81; Alphabet (GOOG) was seen trading down 1.05 percent at $705.57.
Facebook was seen trading down 1.67 percent at $95.71.
Image Credit: By User 冷玉 on zh.wikipedia [GFDL or CC-BY-SA-3.0], via Wikimedia Commons
View Comments and Join the Discussion!
Posted-In: DeepMind Demis Hassabis GoNews Topics Tech Trading Ideas General