Is Apple News Helping Apple? Readership Numbers Are A Little Flubbed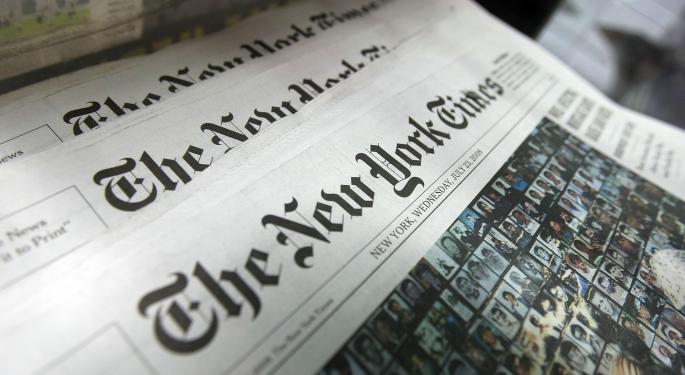 When Apple Inc. (NASDAQ: AAPL) announced that it would roll out a new News app last year, investors and publishers were excited by the prospect. The company's Apple News app attracted more than 100 big name publishers and gave users the ability to set up a curated news stream that kept them up to date on things they care about.
The app was meant to keep Apple relevant as other sites like Facebook Inc (NASDAQ: FB) and Snapchat rolled out their own news offerings. However, a major glitch in the app's capabilities is making publishers unhappy and creating a challenge for Apple.
As The Wall Street Journal noted, the app is off to a "rocky start."
User Numbers
Apple's Senior Vice President of Internet Software and Services Eddy Cue admitted that the app has been inaccurately tracking the number of people using Apple News and reading publishers' content. While Cue said the numbers Apple has been releasing have been lower than the actual readership, publishers who have signed up to release content through the app, like Time Inc. and the New York Times, say that accurate audience-measurement is a necessity.
Related Link: Where Are People Using Apple Pay?
Traffic Low
Even though Apple claims its traffic data has been underrepresented, publishers say that they have been disappointed in the number of users reading their content through the app. Since its release, the app is said to have had 40 million users, but the number that use it frequently is unknown.
Still Making Changes
As the app is still just a year old, Apple is working to fix the audience-measurement issue and work together with publishers to ensure a positive experience. At the moment, Apple allows publishers to sell their own ad space for 100 percent of the revenue, but they must use Apple's own advertising technology to include them. Otherwise, publishers can allow Apple to sell ad space and collect 70 percent of the revenue
As many have opted to allow Apple to sell the ad space, Apple has put more effort into developing its iAd network in order to promote ad spending. Although the company has seen a few hiccups during the app's first year, Cue has expressed confidence in the firm's ability to rework the app and draw in more users.
Posted-In: Apple News SnapChat Wall Street JournalTop Stories Tech Media Best of Benzinga
View Comments and Join the Discussion!