Insana Says U.S. Is Still 'The Best Place To Be'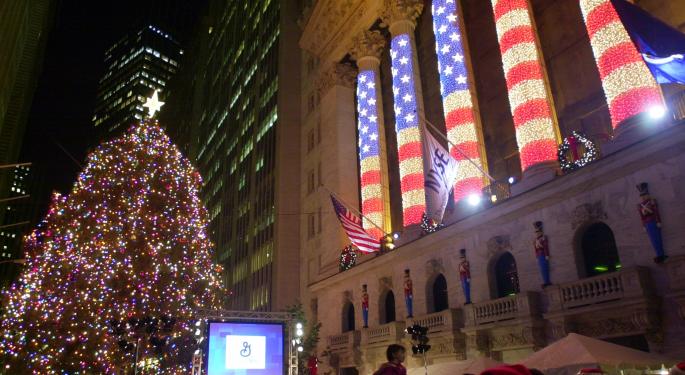 Following last week's worst start to a year on record, traders and investors are on edge as they wonder if the U.S. economy is in for another recession in 2016.
According to Ron Insana, the domestic economy will continue to be a global strongpoint, calling it "the best place to be."
The rest of the world is very weak. "The U.S. looks good, like an island of calm in rough sees," Insana said on Friday's PreMarket Prep. "My guess is we're in for a growth recession in 2016, not a real recession."
Strong Core Economy
What bellies Insana's confidence in the U.S. economy, at least relatively speaking, is strong data, most notably last week's jobs report which saw 292,000 new jobs added in December. The uptick in auto sales and family formations also should give investors some confidence.
"I don't think it necessarily is determinative," he said of a potential January Effect. "I think there are, however, a lot of risks out there that may make this year a little more difficult to handle than most people might have anticipated."
Related Link: El-Erian: Strong Jobs Number Signals Two More Rate Hikes
Notably, Insana said the growth recession likely in for in 2016 is due to the combination of China's wavering economy and an "unfriendly Fed."
No More Rate Hikes
Asked whether he thinks the Federal Reserve will again raise rates, Insana said no, calling it a "one-and-done operation."
It could even go the other way, with the US ending up with negative interest rates if the global economy continues to weaken.
"If the global economy continues to weaken, I think that's a real risk, that the rest of the world is much much weaker than the US," he said.
"Over the next three, five, 10 years, I think the US is the best place to be," he said. "Period and end of story."
Listen to the rest of the interview with Ron in the clip below, and listen to PreMarket Prep live every morning from 8-9:30 AM ET here or check out the podcast here;
Posted-In: PreMarket Prep ron insanaEconomics Exclusives Interview Best of Benzinga
View Comments and Join the Discussion!