Amazon Making Moves To Disrupt The Logistics Industry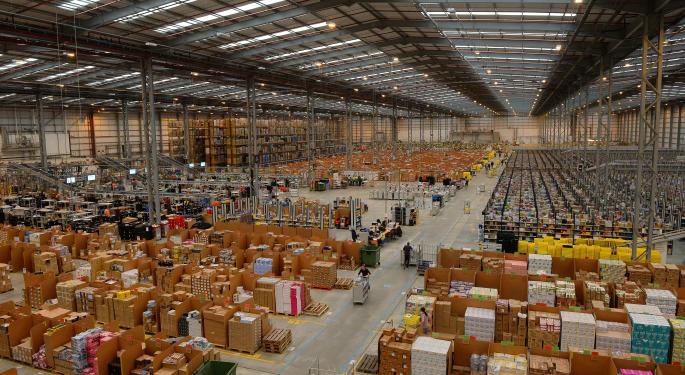 Shipping firms like United Parcel Services (NYSE: UPS) and FedEx Corporation (NYSE: FDEX) initially cheered consumers' shift from shopping at traditional brick and mortar stores to e-commerce.
Online purchases increased traffic for the logistics industry and led to some lucrative deals with big name retailers like eBay (NASDAY: EBAY) and Amazon.com Inc. (NASDAQ: AMZN). However, in an effort to offer customers faster shipping options at lower prices, Amazon has been working out new ways to get orders delivered without the help of traditional shippers.
Creating Its Own Shipping Service
Amazon has been exploring a number of ways to get around using shipping services, including drone flights and an Uber-like service that allows customers to pick-up and deliver others' orders in exchange for Amazon credit. However, the company's latest efforts mark its boldest move into controlling its own shipping.
Leasing Cargo Planes
According to the Wall Street Journal, Amazon held discussion with several air-cargo firms in hopes of leasing up to 25 aircraft in order to create its own freight operation. While nothing has been set in stone, rumor has it that Amazon is planning to establish this freight service as early as next year.
What It Means For Shippers
This could be a bad sign for shipping firms like UPS, as it would signal a new era in which Amazon was able to separate itself further from traditional shipping services. The company has already begun rolling out fleets of its own trucks and drivers, and adding aircraft could be the final nail in the coffin.
What It Means For Amazon
For Amazon, the move could represent a huge step forward for the company's dominance in online shopping. Cutting out its shipping partners would significantly reduce the firm's costs and allow for faster deliveries and fewer delays, an important part of the online shopping experience.
Posted-In: News Markets Tech Best of Benzinga
View Comments and Join the Discussion!