Jack Ma Might Buy A Crucial Yet Struggling Chinese Newspaper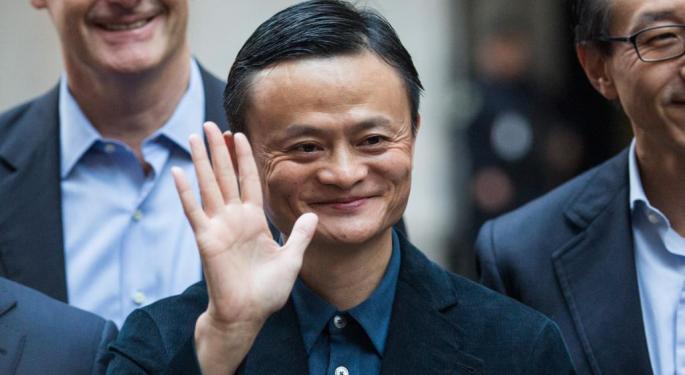 Alibaba Group Holding Ltd (NYSE: BABA) founder and chairman, Jack Ma, is eyeing a majority stake in a Hong Kong newspaper, the South China Morning Post.
Ma, along with Alibaba, has a history of media acquisitions, including eBusiness Review, Huxiu, China Business Network, and more.
Ma's interest in media assets is drawing parallels to Amazon.com, Inc. (NASDAQ: AMZN)'s Jeff Bezos.
Jack Ma is eyeing a majority stake of South China Morning Post, a Hong Kong based newspaper whose relevance is being described by Quartz as "fading."
Ma, along with Alibaba, have a history of acquiring media assets. Quartz noted that In March 2013, Alibaba acquired eBusiness Review (a Harvard Business review type publication), in 2014, the company acquired a 40 percent stake in Huxiu (a leading technology and business blog). In 2015, Alibaba invested $193 million in China Business Network (a Bloomberg-type financial news outlet), and most recently, the company partnered with Caixin (a financial magazine) to launch an online-only news provider.
Ma's interest in media outlets is drawing parallels to Amazon's founder and CEO Jeff Bezos whose media assets include the Washington Post and an investment in Business Insider.
Related Link: Take A Look At The First Reusable Rocket, Courtesy Of Jeff Bezos
China has been cracking down on independent news reporting outlets that aren't state sanctioned, leading to some confusion as to why Ma (and Alibaba) have a keen interest in the space.
Commenting on the potential acquisition, Bloomberg technology reporter Brad Stone said that the move is in-line with Alibaba's "broader strategy" of "branching out into traditional commerce and media" outlets.
"It's another way of expanding its empire," Stone added. "And really, there is a kind of confidence here, you might even call it arrogance, that Alibaba can come into some of these once glorified franchises and restore them to their former glory."
Stone said Bezos' investments in media outlets may not have "paid off financially" but Amazon has been studying ways to use the Washington Post "strategically" and "for its own interest" – something which Alibaba is planning to similarly explore.
View Comments and Join the Discussion!
Posted-In: Jack Ma Jeff Bezos Media Acquisitions QuartzNews Rumors Global Tech Best of Benzinga