Clinton, Sanders And Trump Not Big Fans Of The Pfizer-Allergan Deal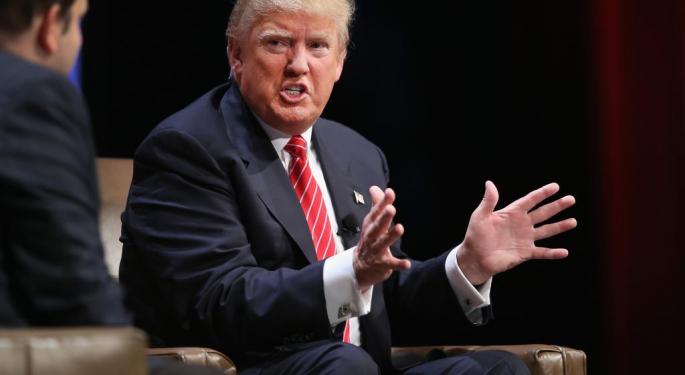 Following months of takeover talks, Pfizer Inc. (NYSE: PFE) announced on Monday it has acquired Allergan PLC (NYSE: AGN) for around $155 billion.
The combination of Pfizer and Allergan marks the largest consolidation in the healthcare space.
Presidential candidates publicly opposed the merger following the announcement.
The healthcare sector saw its largest consolidation yet as Pfizer has agreed to acquire Allergan in a deal valued at around $155 billion.
Pfizer's acquisition also represents the single largest inversion ever as U.S.-based Pfizer may be able to officially move its headquarters to Allergan's Irish domicile. By doing so, Pfizer's effective tax rate is expected to drop to 18 percent in the first full year after the transaction closes from 25 percent in 2015.
Related Link: Pfizer Buys Allergan In Largest Healthcare Deal Ever
Ahead of the 2016 U.S. presidential election, Democratic contenders Bernie Sanders and Hillary Clinton took advantage of the news to explain their views on inversion related acquisitions.
According to The Hill, Clinton's camp will unveil in the coming weeks "specific steps" to avoid transactions that "take advantage of loopholes" in the U.S. tax system. In addition, these transactions "distort incentives for investment, and disadvantage small businesses and domestic firms that cannot game the international tax system."
"Republicans should stop trying to tilt the tax code even further in favor of the super wealthy and the largest corporations and join us in supporting these necessary reforms on behalf of U.S. taxpayers," Clinton was quoted as saying.
Bernie Sanders, currently a Senator for the state of Vermont, suggested that the deal is a "disaster" for American consumers who "already pay the highest prices in the world for prescription drugs."
Both Sanders and Clinton also stated that the deal is another instance of a "large corporation," in this case Pfizer, not paying "their fair share" of taxes.
Republican presidential candidate Donald Trump told Business Insider, ""The fact that Pfizer is leaving our country with a tremendous loss of jobs is disgusting... Our politicians should be ashamed."
Posted-In: Allergan Bernie SandersNews Health Care Politics M&A Top Stories General Best of Benzinga
View Comments and Join the Discussion!