Meet Faraday, Tesla's New And 'Mysterious' Competitor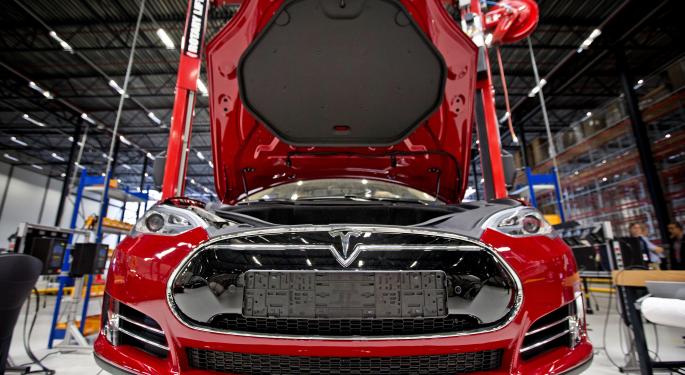 Shares of Tesla Motors Inc (NASDAQ: TSLA) peaked at $286.65 during the summer months, but are now lower by more than 4 percent from a year ago.
The competitive landscape from traditional automakers continues to grow while a new startup company, Faraday Future, will invest $1 billion in a new factory to compete against Tesla.
The 18-month old company will produce its first cars in 2017.
Tesla investors may have been confident enough that the company's electric cars were superior to those manufactured by traditional auto makers. This view may have been reinforced by Consumer Reports who gave Tesla's Model S P85D a score of 103 out of a possible 100 in its evaluation of the car.
"It's a remarkable car that paves a new, unorthodox course, and it's a powerful statement of American startup ingenuity," the report stated.
Related Link: Adam Jonas Sees 'Unanswered Questions' At Tesla, But Remains Overweight
Tesla's "startup ingenuity" is now being challenged perhaps for the first time ever. Faraday Future, an electric-car maker plans on investing a $1 billion in a new factory to manufacture an electric car, according to Cnet.
Faraday Future, an 18-month old "mysterious" startup, is considering several locations for a manufacturing facility and will announce its decision in the coming weeks. The company plans on producing its first cars in 2017.
"We are quite far along in the design and engineering process," Stacy Morris, a Faraday Future spokeswoman was quoted as saying. "We just released data for manufacturing prototypes, as well as initial long-lead tooling data for production."
Cnet pointed out that Faraday's ambitions are supported by "powerful hires," including Tesla's former director of manufacturing for the Model S, Dag Reckhorn, and Richard Kim who was the lead designer for BMW's i3 and i8 concepts. The company also has 400 employees and expects to grow its workforce to 500 by the end of the year.
Cnet, citing a Bloomberg report, also noted that the company is backed by Chinese billionaire Jia Yueting, an entrepreneur and founder of LeTV.com.
Posted-In: CNET Consumer Reports Dag Reckhorn Faraday Future TeslaNews Startups Tech Best of Benzinga
View Comments and Join the Discussion!