Big Bird, Bill Simmons, Jon Stewart: HBO Keeps Stockpiling Talent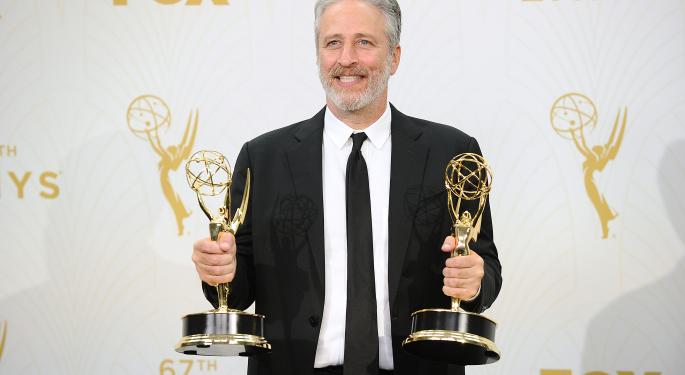 HBO has signed comedian Jon Stewart to a four-year digital content deal.
Stewart is just the latest in a list of big-name additions by the network.
HBO is fighting with a batch of new competitors in the exploding business of digital and mobile video.
HBO announced this week that the company has struck a four-year deal with comedian and former "Daily Show" host Jon Stewart. In a statement, HBO said that Stewart will be working with graphics company OTOY to produce streaming content related to current events.
"The partnership marks the next phase of Stewart's groundbreaking career, beginning with short-form digital content, which will be showcased on HBO NOW, HBO GO and other platforms," the statement reads.
Related Link: How Apple Gave HBO Leverage To Use Against Cable
HBO's New Team Members
In addition to Stewart, HBO has also recently added several other traditional TV stalwarts. Back in August, HBO shocked the world by announcing that Big Bird and the other iconic Sesame Street characters will be debuting new episodes of the children's show exclusively on HBO and its streaming outlets.
In the world of sports, Bill Simmons , former ESPN columnist, podcaster and producer of the "30 for 30" sports documentary series, also recently signed a deal to do a weekly sports show on the network.
Why HBO?
What is making these traditional TV icons make the jump to HBO? According to Horizon Media Research Director Brad Adgate, HBO has developed quite a sterling reputation for quality.
"I think it's the brand, the reputation for quality programming (they get more Emmy nominations than any other network every year), as well as creative freedom to work on projects," Adgate told Benzinga. "HBO has a history of putting content on air that nobody else will do."
Competition Heating Up
The rise of the digital landscape has created a new battleground among TV and movie providers for online and mobile viewers. Alphabet Inc (NASDAQ: GOOGL), Netflix, Inc. (NASDAQ: NFLX) and Amazon.com, Inc (NASDAQ: AMZN) are three of the new leaders in digital video content, leaving Time Warner Inc (NYSE: TWX)'s HBO and traditional TV networks fighting for precious market share.
Related Link: Is HBO Now A Bad Idea?
HBO's digital strategy clearly includes bringing about big names like Stewart, who already has a strong following in the younger, tech-savvy viewer demographic. "These are recognizable names and brands that HBO is acquiring that can lead to long-term success and subscriber growth," Adgate said.
HBO expects Stewart's new content will debut online sometime in early 2016.
Disclosure: the author holds no position in the stocks mentioned.
Posted-In: Bill Simmons Brad Adgate HBO HBO GoNews Top Stories Exclusives Tech Best of Benzinga
View Comments and Join the Discussion!